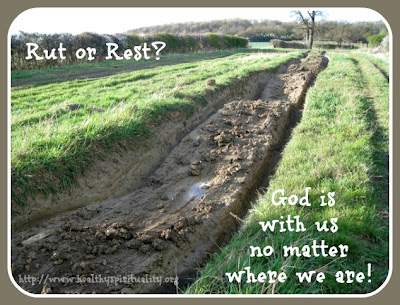 I mentioned on the last post my confusion whether I was in a rut or in a time of rest. I pondered how to best discern, to hear God in this foggy wandering of my soul.
If I have learned anything in my walk with Christ is the fundamental ingredients of discernment boil down to: 
·      Prayer – quiet listening to/for God.
·      Bible – slowly reading His word, taking it into my heart.
·      Community – being vulnerable to share my searching with others and with the Spirit's help, learn from others.
·     Trust – putting my faith in all of the above that the process will eventually become clear.
Since I posted last I have:
·      Journaled and prayed and spent much quiet time with God
·      Revisited and slowly savored some of my favorite Bible passages (see below for the one that really spoke to me)
·      Heard loud and clear from emails and comments left on this blog one consistent and very powerful message:
RUT OR REST:  GOD IS WITH YOU NO MATTER WHERE YOU ARE!
Thank you dear friends for that reminder from so many of you!
This morning I read aloud my favorite psalm and it is so fitting to share that today.
You have searched me, Lord, and you know me.
You know when I sit and when I rise; you perceive my thoughts from afar.
You discern my going out and my lying down; 
you are familiar with all my ways.
Before a word is on my tongue
 you, Lord, know it completely.
You hem me in behind and before, and you lay your hand upon me.
Such knowledge is too wonderful for me, too lofty for me to attain.
Where can I go from your Spirit? 

 Where can I flee from your presence?
If I go up to the heavens, you are there;

 if I make my bed in the depths, you are there.
If I rise on the wings of the dawn, 

 if I settle on the far side of the sea,
even there your hand will guide me,

 your right hand will hold me fast.
Rut or rest? Doesn't matter, God is with me.
And with you! No matter where we go.
Doesn't get much better than that, does it?