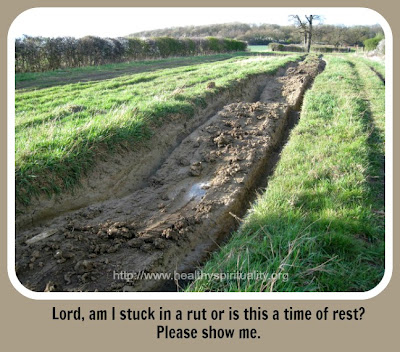 "
I just wish God would tell me clearly what to do,"
said one of the participants in our spiritual direction group. "I don't know which direction to turn and I really do want to be obedient."
I certainly could identify and empathize with that statement. With all my being, I do want to follow God's path for me in life. Discernment is more than just making a decision: it is taking God's view into account, not just our wants and desires. 
To discern comes from the Latin word, discernere:  dis means apart and cernere mean to separate:  So we look at all the options before us and we separate them apart for find the answer.
I am in discernment right now. I can't decipher if I am in a rut or a time of rest. 
I think I hear God telling me just to rest, but my natural tendency so to make a decision and get on with my journey.
Have a missed the bus or am I to linger longer at this spiritual rest stop? If God is in all things and I do believe that, just what is He trying to teach me here?
Then I read the other day this quote:  
"According to legend, there is a sign at the beginning of the Trans-Alaskan Highway which reads, "Choose your rut carefully; you'll be in it for 1390 miles!"
Great! If this is rut, it will be long cold trip. Or one amazing adventure.  Can you see my split personality here? One side feels trapped in a dark dreary hole and the hopeful optimist portion keeps searching for God in the midst of this trench.
Show me your ways, O Lord, teach me your paths. Psalm 25:4 –  (NIV)
I am curious: Anyone else feel stuck in a rut? How do you discern your next step when the reality you are in isn't very clear?