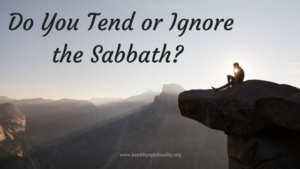 Remember the Sabbath day by keeping it holy.
Exodus 20:8
Sabbath.  Do you tend, celebrate, honor a day weekly or do you ignore, neglect, and forget this command from God?
To be honest, I am not a good Sabbath keeper. I know, I know it is only one day is set aside to honor God, but I know myself and I am not fully remembering to honor that day. Like the practice of hospitality which I share a few months ago, this is another spiritual discipline I get a failing grade in.  Tending to this topic will be a remedial lesson for me – I hope you join in the exploration.
In November, we will be exploring Sabbath as part of Healthy Spirituality's Tending the Holy Thursday series that highlights a spiritual practice or a person(s) of faith for several weeks so we can explore the topic with more depth. It is my hope and prayer we all can learn something new, gain ideas, and be motivated to dig deeper into this practice.
As usual with each month's theme, I have an additional FREE download for you. I knew I wanted to learn more what the Bible said about this holy sacred time and was surprised at the number of verses I found. Then as I began to dive into quotes from the writings of others who pondered this practice, was I ever amazed at the nuggets of wisdom I discovered.  I compiled them for you into a PDF called "Quotes and Verses to Ponder About the Sabbath"  and you can obtained this resourced by simply clicking the button at the end of this post.
Sabbath
What is Sabbath anyway?  Starting with the basics and a definition is always a good place to start.
Several writers use the word "rhythm" in their description of Sabbath. I like that term as it is not a hard boundary, yet gives a framework to live in.
Sabbath is a rhythm, a pattern, a time of work and rest.
"The truth is, Sabbath keeping is a discipline that will mess with you, because once you move beyond just thinking about it and actually begin to practice it, the goodness of it will capture you, body, soul and spirit. You will long to wake up to a day that stretches out in front of you with nothing in it but rest and delight. You will long for a simple way to turn your heart toward God in worship without much effort. You will long for a space in time when the pace is slow and family and friends linger with one another, savoring one another's presence because no one has anywhere else to go."
Ruth Haley Barton
Sabbath is more than taking a break – a day of rest. It is ordering your life around a framework, a pattern of work, then rest and intentionally time with God, the creator and the one who gives us all time.
"Sabbath is a way of being in time where we remember who we are, remember what we know, and taste the gifts of spirt and eternity.
  Like a path through the forest, Sabbath creates a marker for ourselves, so if we are lost, we can find our way back to our center.  Remember the Sabbath mean remembering that everything you have received is a blessing. Remember to delight in your life, in the fruits of your labor. Remember to stop and offer thanks for the wonder of it… Sabbath honors the necessity of dormancy."
Wayne Muller
Did you catch that?  The necessity of dormancy?  Wow, I have never been good at waiting in the different seasons of life. I wonder if I practiced Sabbath more often if I would learn to appreciate and savor times of fallow ground.
A day of sacred rest and more than just the absence of work. This day offers us balance and joy, refuge and restoration, disconnection from distractions and connection with God.
Sabbath is rest from the world and rest in the arms of God.
[Tweet "Sabbath is rest from the world and rest in the arms of God."]
Do we practice or surrender ourselves to Sabbath? What do you think? Do we open this gift from God, his divine invitation or do we stay captive to busyness and fatigue?
"Sabbath margin is the boundary God intended for us to place around the things we enjoy so that we'll never be a slave to anyone or anything other than Him"
Priscilla Shirer
Next Steps in Sabbath
The next two week I plan to feature details from several books:  Sabbath by Wayne Muller and the brand new release from Shelly Miller – Rhythms of Rest.  How they approach this subject, the tips they give and insights they share about Sabbath will bring us more clarity, depth, and I hope motivation to tend Sabbath in our lives.
Over the next few weeks I will also list some tips, essential elements and questions to think about concerning this practice.  I look forward to exploring this practice with you, the Healthy Spirituality community.

And don't forget to download your free copy of the "Quotes and Verses to Ponder about Sabbath" by clicking on the button below. I compiled 100 interesting words of wisdom about this discipline.
 Click Here to Get "Quotes and Verses to Ponder about Sabbath"
What do you think? What does Sabbath mean to you? 
How do you, if you do, honor this day? Any tips for me?