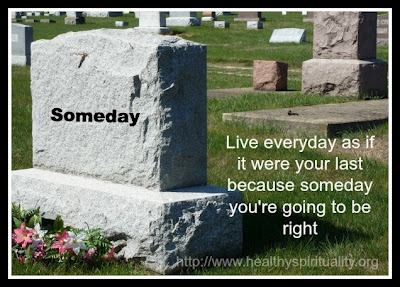 I am a great procrastinator.

 
Someday I will get that book written.
Someday I will lose weight and start exercising regularly.
Someday I will send that letter to my old friend.
Someday I will stop procrastinating.
I have to keep telling myself that "Someday" isn't one of the days of the week.
Mark Twain quipped, "Never put off until tomorrow what you can do the day after tomorrow."
I learn best through stories. This old tale that I rediscovered this week, really pierce through my procrastinating patterns.
Satan, frustrated with the continued devotion of Christians, called his three chief devils to offer suggestions about how to undermine the Church and to stop the forward movement of Christ's work.
The first devil said, "I'll tell them there is no Heaven. That will lead them to despair." But Satan responded, "I'm afraid that will not work. Whenever parents see a newborn baby, or whenever anyone sees the Milky Way on a dark night, they will know that there must be a Heaven."
The second devil said, "Then I will tell them there is no Hell. That will take away their reason to seek the lost." Again Satan responded, "That won't work, either. Whenever they experience war, floods, or any other overwhelming disaster, they will be convinced of the existence of Hell."
The third devil timidly offered, "How about if I tell them there is no hurry?"
 

"That will work! Brilliant," says Satan. "That is just what you want to say. You will have great success. Let them listen to the word of God and whisper in their ears, "This is good stuff. Someday you ought to do something about this. But tomorrow will do."'
A good story to ponder.

 

What do you think?