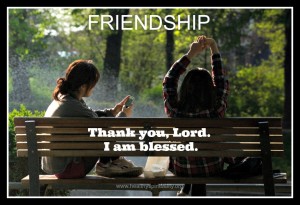 We had dinner with college friends last week. Friends we hadn't seen for a while, but who continue to delightfully cross our paths for 40 years. What a sisterhood and brotherhood, these friends are.
Driving home I marveled – how time and distance separate us, yet once together we chat, giggle and share like old times. Immediately we are back on each other's wavelength listening and caring.
Friendship is priceless. What a miracle!
On my spiritual journey I have learned when a good experience comes along – whether it is of God, in relationships or any life's uplifting surprises, my best response is taking the time to be grateful and to savor that moment.
Savor means to fully enjoy, relish, cherish. To hold and ponder this wonderful gift. To appreciate.
I value these friendships from all stages of my life:
Chrissy and Wendywho I met in 6th grade and continue to bless me and are the sisters God gave me since I have only brothers in my family.
Herb, Kathy, Don, Margie, Jan, Maryann – all college friends (and their hubbies now too) that I am closer to now than in my 20s.
Elma and Barb – friends from early adulthood that we shared young parenting with and the ins and outs of our early Christian yearnings.
Jim, Nancy, Todd, Joann, – current friends what enrich my life.
Johnnie, Clella, Laura and Karen – Kindred Heart writers friendship that began with a shared love for writing and bloomed into so much more.
Jen, Nancy, Michelle, Mia, Barbie, Colleen, Dolly, Lynn, Michelle, Gabby, Katharine, Jennifer, Desiray, Laura, Amy and so many more I am sure I have left someone out – sisters across the internet that I know through blogging.
Valerie, Katie, Mandy and Kyla – great daughters and granddaughters that deepen my sense of sisterhood across generations
All Sisters. Sisters in Christ.
These next two weeks many bloggers are contemplating and sharing their thoughts on sisterhood. 
Soli Deo Gloria
 is a group of women who encourage and love one another. If you want to read more about sisterhood,
click here
 to learn how you can become involved.
As I slowly savor sisterhood in my life I taste some wonderful flavors. Like seasonings, these aspects of friendship enhance, add, and even change me. I find the basic elements of sisterhood to be:
Share – We share memories – both the good times and the challenging ones
     Friendship isn't a big thing – it's a million little things. ~Author Unknown
Care  – These are my "call if you need me, anytime even the middle of the night" sisters.
Friends are like walls. Sometimes you lean on them, and sometimes it's good just knowing they are there. ~Author Unknown
Rare – These are my honest mirrors who will tell me if I am off base, listen while I whine and pout, cry with me, defend me, tell me what I need to hear, but don't want to know and just plain accept me as I am and love me anyway.
"A true friend is someone who thinks that you are a good egg even though he knows that you are slightly cracked." 
~ Bernard Meltzer
Prayer – Our sisterhood is strengthen and built on prayer. I am thankful for all of them and savor, treasure and cherish them.
The glory of friendship is not in the outstretched hand, nor the kindly smile, nor the joy of companionship; it is in the spiritual inspiration that comes to one when he discovers that someone else believes in him and is willing to trust him. – Ralph Waldo Emerson
I found this sisterhood blessing to share today:
If you're alone, I'll be your shadow.
If you want to cry, I'll be your shoulder.
If you want a hug, I'll be your pillow.
If you need to be happy, I'll be your smile.
But anytime you need a friend, I'll just be me.  ~Author Unknown
What does sisterhood mean to you?