I almost missed it.
Driving to a meeting last Tuesday evening, I glanced down at my dashboard. The odometer read:
99999.
As the next mile sped along, I keep watching for the exact moment the numbers switched to:
100000.
As luck would have it, there was a safe place to pull over and snap this photo of this silly moment.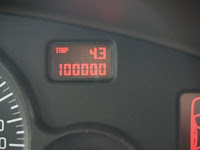 But is it so silly?
A small unimportant moment opened my heart to the Important. 
I paused for one brief minute and thanked God for having a reliable car. For times He kept me safe in the near misses and times I didn't realize how He protected me.
I was grateful for the too many times to count that the car turned over and started its engine – some thing I take for granted. For its heat in winter and the air conditioning in sweltering summers.
For the moments of pure pleasure of singing along with the music at the top of my lungs.
I thought of the headlights to guide me home in the dark. And felt grateful for the hands that built this car and changes its oil.
Pausing to savor a silly splice of life – is that sacred?
I think it can be if you look for God even within fleeting simple moments.
Sometimes we have to force ourselves to treasure His presence in the huge landmark passages of time – a wedding, graduation, funerals or births – but we rarely stop to catch a glimpse of God in the minute details of life
– the steam from my morning coffee, a wave of the hand from a neighbor, or something a trivial as the odometer turning 100,000.
The significant God dwells everywhere, even in our insignificant moments.
This is what the LORD says: "Stand at the crossroads and look; ask for the ancient paths, 
ask where the good way is, and walk in it, and you will find rest for your souls. Jeremiah 6:16 (NIV)