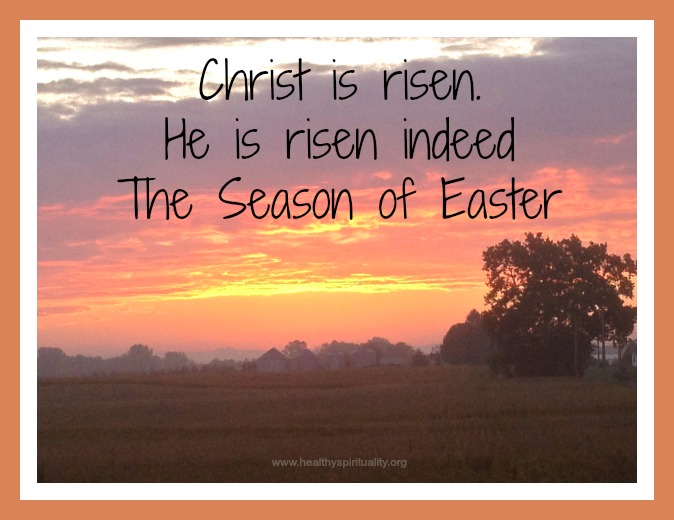 Time to put away the bunnies? The plastic eggs? Didn't we just celebrate Easter and it's time to move on?
When I was little, I thought Easter was only one day. I love it now that our churches celebrate a whole season of Easter, starting with Easter Sunday and continuing up to Pentecost. A whole 50 days!
Our church's liturgy during this seasons begins each week with the words, "Christ is risen. He is risen indeed!" This is a time to behold the resurrection and to study the appearances of the risen Christ. Maybe even see Jesus in unexpected places in our lives too.
 How can we celebrate the season of Easter? Here are some things I am pondering:
Read the various Bible passages about Jesus' appearances. One of my favorites is the Road to Emmaus story found in Luke 24. I think I will rewrite this story in my own words, journal as I unfold its meaning and silently sit with the Lord as I imagine what it would be like to be one of those disciples.
How would my life, your life, be different if we held onto Jesus' victory over death every day? Would I be braver? Would I see more wonder? Would I love Jesus even deeper?
The color on the altar in my church is now gold. The color changed from purple, then black to white, then gold. Where else do I see that color? What else is changing in my life?
The spirit of this season is joy and hope. Where do I need more joy? Where can I help others see joy? Where is hope peeking out in the hidden fringes of life? What are these emotions inviting me to do? To become?
I plan to listen to the lyrics of the Easter hymns we will be singing. What word or phrase jumps out, resonates within me? How is God inviting me to consider those words?
The tomb is now empty. Empty is a great word to ponder and pray about. What is empty in me right now? Where do I need to create space for God to come? What do I need to let go of as I enter this new season?
Ponder resurrection. What is dead within me, us that God is giving new life?
Easter isn't just one day. Easter is really more than one season. We are Easter people living Easter lives and I am so thankful for that reality. Christ is risen. He is risen indeed!
How will you celebrate the Season of Easter?