When you said, "Seek my face," my heart said to you, "Your face, O Lord, I shall seek." Psalm 27:8 (NASB)
"Seek my face"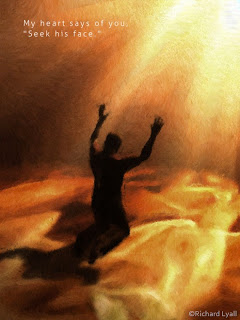 Lord is this all you ask of me? To seek Your face?
To look intently only upon You.
       To live each day not distracted by the shining lights of a flashy world.
To see clearly only You.
        Let my vision not be clouded over by ego.
To hunger only for you.
       Not fill the holes in my soul with empty idols.
To pay attention to the subtle gentle stirring of Your spirit
        And avoid the jostling and jarring uneasiness of living away from You.
Turning, repenting once again to face You and seek Your face.
What a wonderful way to live!