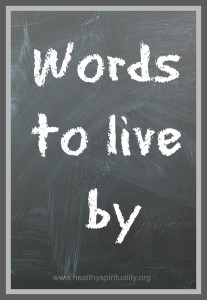 Do you have a life verse? A Bible verse or quote that resonates in your heart? Words that hold special meaning for you and perhaps guide you in times of decision and difficulty?
I have found discovering special key words ground me and offer me light on my path. If I am not quite sure what to do, I reread certain phrases. I would hope once I am gone somehow people who knew me and loved me, would remember me in these ways.
Here are words that impact my life: 
We must keep our eyes on Jesus, who leads us and makes our faith complete
Hebrews 12: 2
My favorite Bible verse. I find that when I focus on God, things become clearer. When I allow my eyes to be distracted by sin, the world and my ego, I become lost. I need to remind myself of these life-giving words daily. 
For 2015, this verse is strong in my daily prayers:
One thing I ask from the Lord,
This only do I seek:
That I may dwell in the house of the Lord
All the days of my life.
To gaze on the beauty of the Lord
And to seek him in his Temple.
Psalm 27: 4
I have had this quote by my kitchen sink for more than 40 years so must be saying something to my soul:
I shall pass through this world but once.
Any good therefore that I can do or any kindness that I can show to any human being, let me do it now.
Let me not defer for neglect it for I shall not pass this way again.
And when I don't know how to act or choose I remember to choose love:
"I really only love God as much as I love the person I love the least."
And as a natural born sour pessimist who has worked hard to become a cockeyed optimist, I try to look on the bright side of things now:
"Joy doesn't just happen. You have to choose joy…and keep choosing it."
Henri Nouwen
As I was writing this post, I googled "life sentences" and only lots of prison and legal information came up. I thought that was funny and led to the title of this blog. But living our lives summed up in a life sentence does confine us in a way. We make decisions by its words. Our journey is directed by its wisdom. We define ourselves by its language. Our egos become restricted in its power and behavior.
Do you have a verse or a quote that inspires how you live?