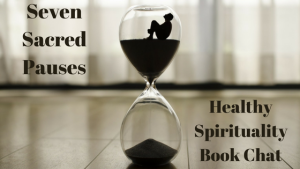 Seven Sacred Pauses: Living Mindfully through the Hours of the Day by Macrina Wiederkehr is this month's Healthy Spirituality Book Chat selection.
As I mentioned a few weeks ago, I want to feature a Christian book that I am reading or want to reread. To be honest, I have a towering pile of books I want to read, but never seem to get to and now by telling you this idea, I am hoping I take the time for more reading and study in my own spiritual journey. I also have a several "top shelf" books, that I have read previously and loved and want to dig back into their words once again. I yearn to go deeper and less shallow in my spiritual walk.
With this monthly Book Chat, we will take a look at a book and glean a lesson to nourish a healthy spirituality. To stretch myself, in addition to what I share in writing on this blog, I want to include a video about the book and a second insight from its words. I may even try doing this as live streaming on Facebook Live.  YIKES!
Seven Sacred Pauses: The Book
Seven Sacred Pauses is about "the art of living awake and ready to embrace the gift of the present moment." The book is a wonderful exploration of pausing for prayer seven times a day.
Seven times a day I praise you
for your righteous laws.
Psalm 119: 164
Christianity, Judaism, and Islam all have rituals and rhythms for praying throughout the day. In this book, the times of prayer follow the early Christian pattern found in monastic communities:
Matins or Vigils – prayer in the heart of the night
Lauds or Morning Prayer – early prayer ideally around sunrise
Terce or Third Hour – midmorning prayer to remember the noble nature of work
Sext or Sixth Hour – Noon, when the sun is at its brightest and highest.
None or Ninth Hour – later afternoon
Vespers or evensong – twilight and the quiet of the evening.
Compline or Night Prayer – in the last hour of the day
These are the seven times of prayer or sacred pauses developed in this great little book.
I have read books before that contained the Divine Office – many of them with detailed prayers, flipping pages back and forth to find specific scriptures and prayers for the day. I have an irregular practice of praying three times a day, but have never delved into the whole routine.
What I really like about this book is how the author takes each time period and explores its nature, its gift, its theme. For example, themes for the middle of the night are deep listening, surrender and trust. The theme for morning or awakening prayer is praise and resurrection, joy and delight and the coming of the light. What a neat way to frame prayer at different times of the day.
After each exploration, she includes prayers, quotes, and poetry for each of the hours.
"Seven Sacred Pauses highlights your call to be. Seven times during the day you are invited to reflect on the wondrous gift of being. Divine hands are still cupped around your becoming, and the best way to cooperate with those hands is to practice being present… Allow the anointing rhythm of the hours to touch and teach you each day."
A book of beauty and inspiration.
Seven Sacred Pauses: My Lesson
Last month one of my spiritual direction clients mentioned this book again. I knew I had it on the shelf and with my annual silent retreat coming up thought it would be good one to bring along.
Dare I practice all, yes all of the hours while on retreat?  I decided my time away would be a good time to do this, so this book accompanied me in my silence. I even set the alarm on my phone for 3:00 am.
What did I learn?
Amazingly I enjoyed the time. Each pause was like reaching out and touching God's hand. Even the middle of the night, though pretty groggy, filled me with peace and presence.
I would read some of the introductory exploration of each hour, underlying phrases or words that resonated with me. Then talk and listen with God about those words. I would finish with one of her prayers, finding her words lingering in my heart even after the time ended.
For example, in the night time hour – and the one that surprised me most with its richness to my soul – she writes, "Vigils is a time of exquisite beauty. It is a time for waiting and watching under the mantle of mystery. It can be prayer of waiting without agenda, without urgency."
One of her prayers has this line in it: "Be present in the lives of those who darkness is not a holy darkness."  That prayer stayed with me throughout the whole retreat and I lifted people up that I knew were experiencing difficult times.
I underlined so many passages in this book. Her prayers are intimate heart-filled conversations with the Lord. She gently invites us to pause, remember and worship. This is a book I will continue to enjoy and study.
And did I continue this practice once I came at home from the retreat?  Well, I planned to, but not the night one. At my age, I often am up at night for other bodily functions, so figured that time would be good to pause once in the bathroom and once with the Lord.  LOL.  I keep her book by my bed, so when up have read her prayers.
I also relocated my other books on the divine hours and have been spending time with deeper morning prayer.  One book by Robert Benson called Venite suggests praying three-four times a day and starting slowly with only one hour.  He writes, "We are called to pray, not to achieve…Find your own way, and be gentle with yourself. Pray as you can, not as you ought."
By the way I love Robert Benson's writing too and hope to feature one of his books here one month. When I looked up Venite on Amazon I noticed he is releasing an new version of this book in October 2017.  I plan to get that one!
I hope you take the time to explore Seven Sacred Pauses. I plan (Am I crazy? Probably and a little bit frightened too, but going to try it) to do a Facebook Live today or tomorrow (April 18 or 19) on my Facebook author page. Once the video is recorded and if I didn't die in the process I will post the video here, so you can see it here later or on the Facebook page.
https://www.facebook.com/Jeanwiseauthor/videos/1894047800841519/
What book have you read lately that is impacting your prayer life? What is your experience with the Divine Hours of prayer? 
P.S. I was recently interviewed on Matthew Brough's podcast: Spirituality for Normal People and thought you may enjoy listening to our conversation about spiritual practices. Here is the link:  http://www.spiritualityfornormalpeople.com/jeanwise/