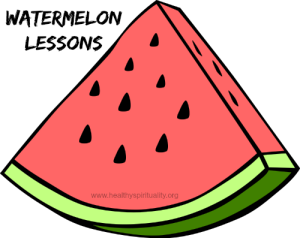 I love summertime. One of the best joys are all those fresh fruits and vegetables – healthy and delicious combinations of exploding nutrition in our mouths. Even the colors – inside and out – are refreshing to the eyes.
One of my favorites is the watermelon. Just learned I missed National Watermelon Day, which was celebrated August 3. So let's celebrate a little late this year and wonder about the watermelon.
If you take something you really enjoy and let your mind and heart wonder a bit, God shows up. As I relished a sample of watermelon last week I became curious about this innovation from God. I never realized all the interesting facts, diversity, and varieties of watermelon that existed. God just amazes me with His creativity and gifts.
Perhaps that is why this column by Omid Safi attracted me a few weeks ago. He writes once a week on On Being (I signed up to get once a week email summary of their blog posts and almost always find treasure in their words.). Go read Safi's wisdom about the Mystery of the Watermelon – you will enjoy it.
Here is a thought provoking quote from his column:
We live in an enchanted universe.
The goal of the spiritual path is not to always seek after the extraordinary. It is to stand before the ordinary, and see the extraordinary shining through it. It is then that we become extraordinary.
Did you know:
There are more than 1200 varieties of watermelons in the world?

Watermelon is an ideal health food because it doesn't contain any fat or cholesterol, is high in fiber and vitamins A & C and is a good source of potassium?

Watermelon can be considered a fruit or a vegetable? In the U.S, watermelon is popularly used as a fruit, to be a sweet enhancer or fun accompaniment to everyday meals. In China, the outer rind of the watermelon is used as a vegetable – stir-fried, stewed and often pickled. Pickled watermelon rind also is widespread in Russia. It is related to cucumbers, pumpkins and squash.

The first recorded watermelon harvest occurred nearly 5,000 years ago in Egypt?

Watermelon is 92% water?

Watermelons usually have red flesh, but some watermelons have white, yellow, orange or even green flesh?

Mark Twain loved watermelon?  He called it the food of angels
Food of the angels  -a gift from God – lessons from an ordinary summertime treat – whatever you want to call it, watermelons fed my spirit this month.
Thank you Lord for watermelons.
What is your favorite summertime treat?