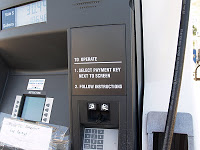 God has quite a sense of humor.
I had been yapping at God all morning. How come I don't understand Your ways? What is my next step? Why can't I hear You?
Why do You make everything so complex and difficult? I need an operating manual for life, Lord!
Then I saw the answer – a simple, clear response – while I filled my tank up with gas: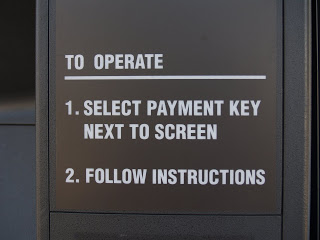 1.

    
Know the payment plan
– God has already paid the price with His Son, Jesus. My heart melted as I realized once again the cost of His sacrifice in light of my shameful, minor whining and complaints. Daily, even moment-by-moment – I offer my heart up to the Lord with gratitude for His gifts, grace, and forgiveness.
2.

    
Follow instructions
. My job is just to follow His instructions. I am reminded about the story of Joshua and the walls of Jericho. God commanded Joshua, not to tear the wall down – that was His job. Joshua's job was just to obey God's simple instruction to march around the walls each day.
My job is to listen to God and follow His instructions – that is to love Him with my whole heart, mind and might.
Putting one foot ahead of the other, like Joshua did, walls of discontent, discord, and distrust will eventually collapse.
As I pumped gas into my empty tank, God's grace filled my empty heart. Once again I was reminded He is in charge and has already paid the price. If I "
follow instructions
," all the rest will fall into place.
Now every time I look at the writing on a gas pump, I will remember God's simple instructions.
Where has God surprised you lately?