I'm asking God for one thing, 

only one thing:

To live with him in his house my whole life long. 

I'll contemplate his beauty; 

Psalm 27:4  (The Message)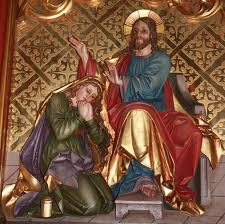 His feet.
Mary sat at Jesus' feet.
After her brother Lazarus died, she "came to where Jesus was waiting and fell at his feet."
(John 11: 32)
Mary sat at Jesus' feet while Martha fussed getting things ready. Jesus said Mary chose the better part.
(Luke 10)
Mary anointed Jesus' feet in preparation for the passover, His Passover.
(John 12)
These verses called to me on my silent retreat this year. The invitation was clear to me: I was to sit at Jesus' feet. I couldn't deny it, so I literally sat on the floor off and on during that weekend.
Now I am not as young as I used to be. I sat on pillows, leaned on cushions, and rested against the side of the bed. I dragged a chair over to place in front on me, imagining Jesus sitting here.
I sat before our King and Savior.
Literally.
My heartfelt, tear-stained prayer asked for only one thing:
"To live with Him in His house my entire life; to contemplate His majesty and to sit at His feet."
By this old age I know myself pretty well. Living within my skin and taking all sorts of personality tests, I know how I am wired and what motivates me:
To accomplish.
To do.
To achieve.
To mark things off my to-do list.
Yet God invites me to sit.
I shake my head at the irony. God knows what I most deeply need. I think I am sitting in front of Him for Him, but God has placed me there for my transformation.
I don't want it to be about me. I want my worship to be about Him. Yet as He cleanses my heart and clears my mind, I can better reflect Him.
Amazing, isn't it?
Amazing isn't He?
Amazing God.
My only response to this holy approach?
I am asking for one thing, only one thing:
To live within God forever and
To sit at His feet in love and contemplation.
Sitting is my only option.