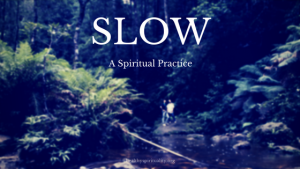 SLOW – say the word aloud. Slow glides leisurely from our mouths like the dawdling drip of Ketchup from a new bottle. Even the last syllable – the W – becomes a deep exhale if spoken in a long drawn out measure.
NOTE: I tried to post this article earlier today and it kept sending you to another page. sorry. Some crazy tech issue. I am reposting and taking a few things out so see if that helps. Thanks for being patient. I am learning slow in a new way. LOL
In the discussions in this blog, with my spiritual direction clients, and among friends, everyone complains about the hurriedness of our society. The rush of instant messaging, the impatience waiting for our coffee to heat up for one minute in the microwave, and the disbelief summer is almost gone. I saw a post this morning on Facebook reminding us to start shopping – only 125 days till Christmas.
Yesterday many of us breathed in the majesty of the solar eclipse. My hubby and I lingered in our driveway, chatting with neighbors who shared their special cardboard glasses, safe to gaze at the half-eaten sun in the dimmed dusk of an unusual afternoon light. We slowed down. We connected. We felt human and small and unhurried – in presence and awe of God's creation.
We all commented how wonderful this joint experience was – no politics, no terrorism – simple slow astonishment of a miracle in God's universe.
SLOW – A Five Minute Practice
Gem Fadling shared on her interesting podcast, The Unhurried Living Podcast, her spiritual practice she developed called "SLOW." Each letter of this word represents a step to refocus and and find refreshment throughout the day. It is simple, easy to remember, and a joy to add to your tools for spiritual growth.
SLOW stands for STOP, LINGER, OBSERVE AND WONDER.
Some of her tips for each step include:
STOP – Stop. Stop moving. Stop thinking. Be still. In this moment it is just you and God.
LINGER – Take a deep breath. The grace for this moment is right here…right now. Use your senses to take in the moment.
OBSERVE – Notice any anxious thoughts. Observe the pace of your heart.
WONDER – What might God have for you in this moment?
I encourage you to check out her video about this practice. If you are reading this only by email, please slow down and come to this blog to see this practice in action.
Slow Quotes to Ponder
Slow down and enjoy life. It's not only the scenery you miss by going to fast – you also miss the sense of where you are going and why.
Eddie Cantor
Most men pursue pleasure with such breathless haste, that they hurry past it.
 Soren Kierkegaard
Paying attention to every moment, forms a new relationship to time. In some magical way, by slowing down, you become more efficient, productive, and energetic, focusing without distraction directly on the task in front of you. Not only do you become immersed in the moment, you become that moment.
Michael Ray
Letter writing is an excellent way of slowing down this lunatic helter-skelter universe long enough to gather one's thoughts.
Nick Bantock
Don't run through life so fast that you forget not only where you've
been, but also where you are going.  Life is not a race,
but a journey to be savored each step of the way.
Nancy Simms
By slowing down and relishing the unfolding of every experience, you
aren't choosing to be less accomplished or productive than others.
You're choosing to be accomplished and productive in ways they may
not even understand. You're choosing to change what's within your
own heart and mind, thereby becoming a part of the solution rather
than a part of the problem.  By no longer rushing through, you're choosing
to stop focusing so much of your energy on the wanting and yearning,
the wishing it was done, the frustration with what hasn't happened yet; and
to make, instead, the most of every experience as it unfolds at its own pace.
Nea Justice
How do you practice being slow? What has this taught you?