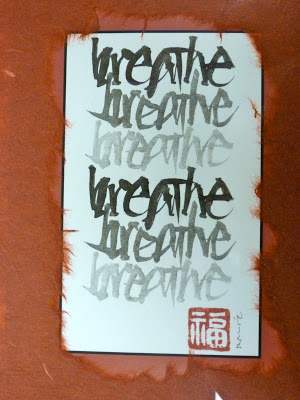 I was amazed at the comments and emails I received after Tuesday's post about slowness and soul rest. You all made me feel better realizing I am not the only one struggling with busyness. Your words also reminded me to be grateful for the ability to be busy and to savor the opportunities as blessings.
Thank you.
Practicing slowness is a valuable spiritual discipline.
At one of the retreats I attended a few years ago we intentionally practiced slowness. We spoke slowly. We chewed our food longer. We put our forks down between bites. We deliberately looked one another in the eyes.
The routine at this retreat that struck me the most though, was how we physically moved from sitting to standing. I normally bounce up and get going. We moved in slow motion. More Eyorye than Tigger.
Try that sometime this week. When you need to stand up or sit down, move very slowly.
Slow down and enjoy life. It's not only the scenery you miss by going too fast – you also miss the sense of where you are going and why.


- Eddie Cantor 
Slowness will help free us from this addicting fast pace and increase our awareness of the present moment. Slowness will help make room in our inner being for God. It creates space for stillness and peace.
"Life is so short, we should all move slowly."
Musicians know the value of keeping tempo. The notes move quickly through many places but the best music also holds pauses and slower movements. If I keep racing all the time, I am sure not following the Conductor.
Pay attention to your speed this week. Make a conscious effort to slow down and savor the moments.
"Most men pursue pleasure with such breathless haste that they hurry past it."
What has slowness taught you?