Last week I wrote about earth just being temporary as we travel to our true home in heaven.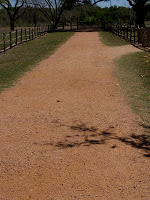 The word "sojourn" stood out to me shortly after I posted on the blog. I like the sound of that word – sojourn.
Sojourn means "to stay as a temporary resident; to dwell for a time, a temporary stay." The word originated from old French and dates back to the 13th century. Its roots go back even further into Latin for "spend a day there."
But don't think being a sojourner means you are off easy and don't need to work. A sojourner has a purpose and a passion.
On June 1, 1843, Isabella Baumfree changed her name to
Sojourner Truth
. She told friends, "
The Spirit calls me [East], and I must go. …the Lord gave me Truth, because I was to declare the truth to the people
."
Later she wrote, "Sojourner means traveler and truth means being real or genuine. I felt that God had told me that my mission in life was to tell people the truth about women's rights and slavery."
Sojourner Truth was a feisty, not afraid to speak up woman. Here is another great quote from her:
"I am not going to die, I'm going home like a shooting star."
We are all sojourners.
Just spending some time here before we complete our final destination.
How does that impact how I live?
A sojourner worries less. The weight of this world is easier to let go when I know I won't have to carry it forever.
A sojourner knows the final destination. I can enjoy the scenery, the trip, more knowing someday I will safely arrived.
A sojourner knows my fellow travelers are also on their paths, but we will all meet up again at one grand party/reunion eventually.
Sojourn will be a word/concept I will continue to ponder.
How does that word impact how you live?