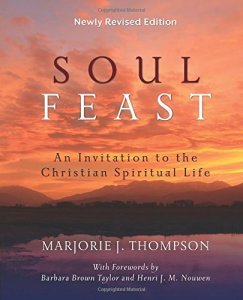 One book that has been a classic for anyone interested in spiritual practices and a great one for small groups is Marjorie Thompson's Soul Feast. First released in 1995 this best seller has been recently updated and I had a chance to review it from a book review site called NetGalley. 
I was excited to see a new chapter on Sabbath keeping, as this has been a hot topic among many people lately. I also appreciated more information on the chapter about Rules for Life – a practice I learned when becoming a spiritual director, but have found many others never heard of before.
The group study guide has been refreshed with new material also.
Interested in learning more about spiritual practices? This is one of the best references for you. Practices include spiritual reading, prayer, worship, Sabbath, fasting, self-examination and confession, spiritual direction, hospitality and developing a rule of life.
"Trust is the heartbeat of Sabbath, the bedrock of soul rest. Perhaps because God knows how much we need this rest and how hard it is for us to take, Sabbath is a commandment.
It is probably the commandment most frequently broken by church leaders, caught up as we are in the ceaseless demands of ministry and haunted by the conviction that we can never do enough to truly satisfy others or God….
When we neglect Sabbath times as a life sustaining rhythm, we risk great damage to ourselves and our communities as well as to our capacity for intimacy with God."
Full of practical applications in each chapter this book is well worth getting the revised edition for your book shelf.
Been reading any other good books lately?