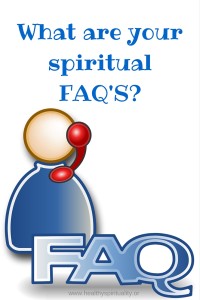 FAQ's. We see this term at the end of articles, in instruction booklets, and following complicated explanations.
Ever wonder about spiritual FAQ's? What do people of faith commonly ask? What do you ask?
I reviewed my readers' survey and comment sections for FAQ's and here are some I discovered:
How can I deepen my relationship with God?

How do I experience God in my daily living?

How do I incorporate spiritual practices into real life?

How do I live in the present and give my future to God?

How do I keep prayer fresh?

How do I make the best decisions in the transitions of life?

How do I get through those tough times of life?

How do I get my priorities straight to seek God first?

How can I understand God's timing better?

How do I keep my focus on God with so many distractions and challenges?
As I wrote these out I was amazed that all started with the word "how." Sure a few of them could be written with a different word, but I think they express the intention of the question clearly with the word "how."
"How" is a manner of doing things. How stimulates creativity. How describes one state (how are you?) and moves to another. How relates closely to the word "why."
How implies there will be an answer. How looks to control, define, give something tangible to do.
I think I rush through the questions of "how," too often seeking the comfort of knowing the answers. I want the action plan, the to-do assignment, so I feel more comfortable, more relaxed in the safety of certainty. To know I am in control.
The best learning, though, often happens in the edges of life, teetering between the doubts and fears, having to admit I don't know and only have God to rely upon for strength, wisdom and guidance.
Questions prove my humanity and that I am not God. Questions also shape my humanity and is one purpose why God sent us on this spiritual journey.
"Be patient toward all that is unsolved in your heart and try to love the questions themselves, like locked rooms and like books that are now written in a very foreign tongue. Do not now seek the answers, which cannot be given you because you would not be able to live them. And the point is, to live everything. Live the questions now. Perhaps you will then gradually, without noticing it, live along some distant day into the answer."
The spiritual journey will always be accompanied by questions. Our formation, our growth occurs in the discovery and exploration of them. We develop spiritual muscles by wrestling with them. New insights arise from sitting and talking with them.
Asking questions is a powerful spiritual practice. Writing what is stirring within us, talking with others about our deepest unknowns, and getting acquainted with our uncertainties and doubts that we so often tuck away and ignore – shape us.
What are your spiritual FAQ's?