We visited friends this weekend and drove through some historical old cemeteries in Southeast Ohio.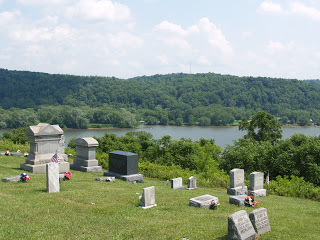 We guessed at some of the markings as the engraved words on many of the tombstones disintegrated into the stones.
Mother
Son
Dates long forgotten.
A few last words:
My best friend
Loved us all
A favorite Bible verse
We discussed that night what we would want as an epitaph. Yes we got a little silly, giggling about the famous, funny one:
I told you that I was sick!
Image via Wikipedia
June 14 is the birth date of Harriet Beecher Stowe. I read her tombstone reads:
Tears are often the telescope by which men see far into heaven.
She left us another type of legacy in her book Uncle Tom's Cabin, often call the match that lit the American Civil War and ended slavery in the U.S.  Her words brought national attention to the evils of slavery.
One story tells of when she met Abraham Lincoln he supposedly said, "So you are the little woman who wrote the book that started this great war!"
Interesting facts about the birthday girl:
·

     
The only book to outsell Uncle Tom's Cabin in the 1800s was the Bible.
·

     
Her sixth child, Charley, died of cholera in July 1849  "It was at his dying bed & at his grave," Stowe writes in an 1853 letter, "that I learnt what a poor slave mother may feel when her child is torn away from her…I have often felt that much that is in this book had its root in the awful scenes and bitter sorrows of that summer."
·

     
Though known for Uncle Tom's Cabin, she published more than 30 books.
Ever wonder what type of legacy we are leaving? 
I want it said of me by those who knew me best, that I always plucked a thistle and planted a flower where I thought a flower would grow. Abraham Lincoln
The mass of men worry themselves into nameless graves while here and there a great unselfish soul forgets himself into immortality.  Ralph Waldo Emerson
The greatest use of life is to spend it for something that will outlast it. Williams James
"There are certain things that are fundamental to human fulfillment. The essence of these needs is captures in the phrase, "to live, to love, to learn, to leave a legacy.' The need to live is our physical need for such things as food, clothing, shelter, economic well being, health. The need to love is our social need to relate to other people, to belong, to love, and to be loved. The need to learn is our mental need to develop and to grow. And the need to leave a legacy is our spiritual need to have a sense of meaning, purpose, personal congruence, and contribution."  Steven Covey
Legacy – the word and its meaning is stirring in my heart this week.  How about you? What does leaving a legacy mean to you?