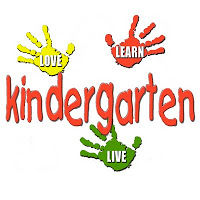 Ahhh, back to school time.
Remember being in kindergarten? My biggest memory of that grade is being happy and whistling while I played in the large sunny room.
"
There is no whistling in school, Jean Anne
," the teacher scolded.
But I was happy…..
I hold good memories in my heart of my own kids first day of school entering kindergarten. New backpack, shiny shoes and smiles from ear to ear.
I never had a shy child who wouldn't let go or one who cried.
Perhaps since their dad was the principal and never far away helped to make this new experience seem less scary.
(They cried later when they were older though and in trouble. You can't get away with anything when Daddy is the boss, but that is another topic for a future post. LOL)
Kindergarten
– the word comes from Germany and means kinder – the plural for kind or child and the word for garden.
In a child's garden – what a delightful name for this early step away from home and into the terrifying, unknown world.
I think all of us need to go back to kindergarten.
A place to grow kinder…..
As I listen to the news this week and hear from the fears and concerns from my friends, I know the world needs so much more kindness.
Back to school time. Join me in the kinder-garden and let's be kinder this week.