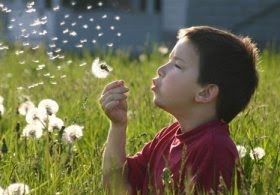 I am a successful gardener. My specialty?
Dandelions! Though most gardeners (myself included) struggle the entire growing season to remove these perennials and their deep roots, God
did
create these flowers we chose to call weeds.
"
A weed is but an unloved flower
."
-
Ella Wilcox
These perpetual shoots of yellow love to grow among my carefully laid out plans, distracting my attention from other beauties.
I tend, though, to agree with Eeyore, friend of Winnie the Pooh who said: "
Weeds are flowers too, once you get to know them."
I befriended dandelions this year. Dandelions entertained me with delightful memories while I weeded last week. Instead of a nuisance, this flower invited me into the wonder of God's ingenuity.
Remember as kids, taking one of the flowers and squishing it around on your best friend's face? If it left a smudge of yellow, it meant you like butter.
Or even more meaningful – remember taking the dandelion that has transformed into downy seed and blowing on the white feathery ball?
Counting the number of puffs needed to remove all the seeds is claimed to tell us the time or the number of years before marriage. Or we could determine if our true love was really true by blowing on the dandelion fuzzy ball three times; if at least one of the fuzzy seeds remained, it was taken as an omen that our sweethearts were thinking about us.
And nothing grabs the heart of a mother so much as when our babies toddle over to us with their gift of dandelions clutched in their tiny fists.
"
For you, mommy
," they beam.
Just think – one of the first tangible gifts of love from our children is often a bunch of freshly picked dandelions.
The dandelion flower symbolizes persistence and a strong will. It is also thought to represent wishes coming true, cheerful love, and general happiness.
And wonder upon wonder, each flower head is actually composed of thousands of small ray flowers.
What a miracle
.
I decided to learn more about this flower: the early colonists brought dandelions to the New World. They used the whole plant. The flowers made wine, the leaves made salads, the stems and roots dried and used medicinally. According to stories, a dandelion never grows where there are no human inhabitants. The early pioneers found no trace of them in western America. After a few years, up sprang a dandelion head and soon there were millions of them. Native Americans learned to love them and would walk miles to gather them if they could not be found locally.
Today dandelions are used in food and medicines.
The scientific name of the dandelion comes from the Greek word taraxos, which means disorder, and akos, which means remedy. The word dandelion comes from the old French word Dent-de-lion or from the Latin dens leonis, both also meaning lion's tooth or teeth doe its ragged leaves.
Disorder and remedy?
So often life is like that: what at first confuses us, frightens us, and throws us into chaos also leads the healing and transformation. We live a dandelion life, don't we?
The pesky dandelion still irritates me growing where it shouldn't and spreading where I don't want it, but I have learned a new admiration for its ability to thrive no matter what I do.
Like a dandelion, I hope my roots go so deep in God's earthy heart no poison or violent tugs from the outside world can dislodge my love for Him.
God created the dandelion and its lessons of joy and love spread throughout the garden of my heart.
What does the dandelion teach you?