We have all heard, "A picture is worth a thousand words."  
Do artwork, photographs, icons, or symbols ever speak of God to your heart?
Henri Nouwen wrote a book –
The Return of the Prodigal Son
– about his experience contemplating and praying with God about Rembrandt's famous painting.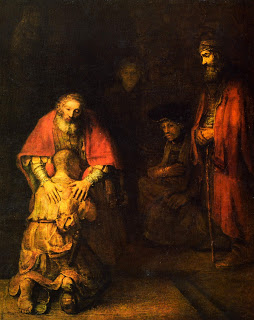 A chance encounter with a reproduction of Rembrandt's The Return of the Prodigal Son catapulted Henri Nouwen on a long spiritual adventure. Nouwen studied all the characters in the parable: the younger son's return, the father's loving forgiveness, the elder son's vengefulness, and the father's compassion.
He wrote,
"
Constantly falling back into an old trap, before I am even fully aware of it, I find myself wondering why someone hurt me, rejected me, or didn't pay attention to me. Without realizing it, I find myself brooding about someone else's success, my own loneliness, and the way the world abuses me. Despite my conscious intentions, I often catch myself daydreaming about becoming rich, powerful, and very famous. All of these mental games reveal to me the fragility of my faith that I am the Beloved One on whom God's favor rests. I am so afraid of being disliked, blamed, put aside, passed over, ignored, persecuted, and killed, that I am constantly developing strategies to defend myself and thereby assure myself of the love I think I need and deserve. And in so doing I move far away from my father's home and choose to dwell in a "distant country".'
Praying with icons is an ancient prayer practice that involves keeping our eyes open, taking into our heart what an image visually communicates. We focus not on what is seen in the icon, but rather on what is seen through it – what is God inviting us to do, to be. How is He present with us in the image before us?
Icons help us use our right brain to experience the holy — a divine mystery. Icons are not simply art; they are a way into contemplative prayer, and are therefore one way to let God speak to us. They are doorways into stillness, into closeness with God.
Many people's favorite icon is
The Holy Trinity
by
Rublev.

Image via Wikipedia
 My fellow bloggers and their gorgeous photographs they share fascinate me. Often they use few words. Check out
Ann Voskamp

's beautiful blog
A Holy Experience
for inspiration.
I am intrigued, stilled, awed, and humbled that God's hand is always upon me. Sometimes when I can't find the words, I just sit quietly with one of these simple reminders that He is here, holding me, loving me.
Do you have a special image, painting, photograph that speaks to your soul?