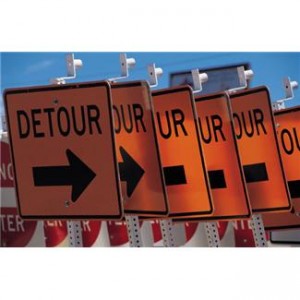 I live in Edon Ohio, a little village with less than 900 residents. Our homes sit on the crossroads to two state highways: north and south State Route 49 and east and west State Route 34. We head east to Bryan, our county site (shopping, work, appointments, and restaurants) and west to the wonderful lake region where many people travel to during summer.
Summer is also road construction time and guess what happened this year. The Ohio Department of Transportation decided to replace three bridges heading east out of Edon.
"State Route 34 will be closed for one month,
" they announced last June.
Ok one month of finding a new way east wouldn't be so bad, right?
Ohio winters can be tough on bridges. When the engineers started the project, they found much more damage than expected.
"State Route 34 will be closed the entire route to Bryan until November."
What?
To make matters worse, in July State Route 34, west toward the wonderful lake region was also closed and still remains so today. Again bridge work.
When we are downtown Edon (now quit smiling when I call it downtown) we can only head north or south – almost like we are trapped by detours. Taken hostage by road signs. Our wings clipped by the irritating nuisance of having our routine disrupted. Change is not easy, is it?
Sigh.
The Department of Transportation opened a four mile stretch of State Route 34 last week and I drove on it for the first time.
Wow – how smooth it was. Hey, the end results of this inconvenience could be really nice.
Got me thinking about what I learned by all these detours this summer.
1.

    
I discovered new ways to get to where I wanted to go. That isn't a bad skill to develop. I saw great farmland scenery, wild flowers I would have missed, and learned where people lived.
While I grumbled, whined, and complained, my friend Joann took the summer construction as a challenge – how many different ways to work could she find?
I like her attitude, don't you?
2.

    
Every time I drove east, I arrived a good five minutes later than I planned. I didn't like getting there late, but never remembered to plan that extra room in my schedule. Many of the back roads were winding and rough and must be driven a little slower and more carefully. Just like in life, things takes us longer than expected most of the time. And when they announced the extension of the construction, it reminded me once again we seldom know the length of life's detours. Did it really hurt me to slow down a bit when driving? Learning a little patience and time to savor the scenery was kind of nice.
3.

    
And finally, in the whole view of things, did this little aggravation really matter in life? I bet on my deathbed, my last words won't be: remember the summer of 2011 and that annoying detour. As the expression goes, if this is the worse thing to ever happen to me… right? Time to let it go and focus on what really matters in life: God, family, friends, life, health – so much to be grateful for.
"Life is just like an old time rail journey … delays, sidetracks, smoke, dust, cinders, and jolts, interspersed only occasionally by beautiful vistas and thrilling bursts of speed. The trick is to thank the Lord for letting you have the ride." –Gordon B. Hinckley
A detour.  An opportunity to see things anew. Not always the way we look at road construction, but this summer did remind me of lessons I needed to relearn.
And such is life.