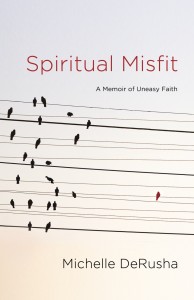 Michelle DeRusha's memoir Spiritual Misfit – A Memoir of Uneasy Faith releases today and let me tell you her missive, her message in this book is massive. I love her honesty and her humor in telling the story of her faith. This book will bring a smile to your face and faith to your heart.
Every one has a story, but many times we don't share our inner struggles, our doubts and even the times when we feel ashamed of our unbeliefs. In this book Michelle describes her time of wearing the masks we think others want us to see and how revealing our raw selves leads to discovering our true selves we find only in Christ.
I really liked this book. We can be brought to tears by hearing someone's dramatic testimony while our own faith lies idle, growing at a snail's pace that often we can't see. Michelle shares her faith walk that shows us, there is a path laid out for us that God is unfolding in his magnificent way. Thanks, Michelle for reminding me of this!
The poet Rainer Marie Rilke has a wonderful quote,
"Live the questions now. Perhaps then, someday far in the future, you will gradually, without even noticing it, live your way into the answer."
 Michelle lives and explores these questions in her book, Spiritual Misfit, in a very authentic way. Her transformation into a Beloved Misfit shows God's grace and love in a way that will appeal to many of us who struggle with doubts and fears about our faith.
I was given an advance reading copy of this book, but the opinions I have shared are my own.
And I want to share some of her "pins" so you can get a flavor of this book: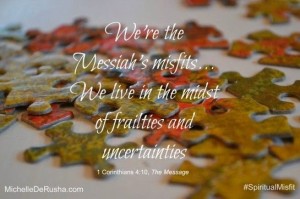 I highly recommend this book and guess what? The publisher sent me one to give away on my blog. So leave a comment here and/or on Thursday's post. I will share with you on Thursday some great quotes from this book. The giveaway will end Friday, April 18 at 5 pm so be sure to comment on either post by then to be eligible to win a copy of Spiritual Misfit. I will announce and notify the winner on Saturday.
We are all God's Beloved Misfits and all have a story – our spiritual missive to share. Let's live the questions and be honest as we grow in our faith.