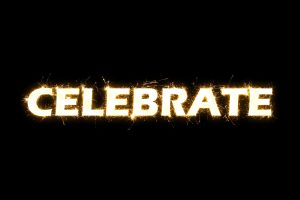 The results of my life assessment test rested before me. I could guess the score already, as this was the third time I completed one of these self-identity tools. I love taking these peak inside of my life quizzes– it affirms what I know about myself and often gives me a new perspective about why I do or think certain ways.
You know these kinds of tests. They look something like this: Rate yourself in the following categories from one, being the lowest/weakest to 10, being the highest.  Life areas assessed are categories such as physical, mental, emotional, social, financial, spiritual, family, joy/recreation, personal growth, time, career, etc.  They may be listed, in a checklist or a wheel.
My lowest?  My "F" in the report card of life?  My "why can't you do better" score?  Joy/recreation.
I flunk celebration. I race from one completed job to another without stopping to enjoy the accomplishment. When I retired from public health, they practically had to drag me to my own party. On the last day of my work there, I slipped out the back door early to avoid the good-byes.
Yet every time I complete one of those assessments, I hear God's gentle invitation to grow in this discipline. My soul hungers for the joy, the delight, the dance with God in celebration.
In April, we will explore how the practice of celebration as a spiritual discipline strengthens our faith.  Each month on my Thursday posts, I pick one theme (or person of faith) to explore deeper. I call this series Tending the Holy Thursdays.
I am so excited too about this month's free download "The Spiritual Practice of Celebration: A Prayer Reflection Guide." You can get this free by clicking on the button at the end of this post.  I will share more about this guide below too.
Be sure to sign up to get Healthy Spirituality in your inbox so you don't miss any of the weeks (I promise I never over send stuff to you). And invite your friends to this blog and share on social media.  I sure do appreciate the support in spreading God's word.
The Spiritual Practice of Celebration
The Bible overflows with celebration.
Marian and her friends danced with their tambourines after escaping from Egypt.
The angels sang when Jesus was born.
Jesus turned the water into wine so the party would continue.
When we celebrate, we turn our hearts towards the God who gives us all things. Our spirit lifts and we gain strength and energy to continue our life journey.
Celebration brings joy to others and enhances our worship. Celebration connects us with friends and family when we share together in jubilation. The book of Nehemiah reminds us that the joy of the Lord is our strength.
In the classic book (and one of my favorites) The Celebration of Discipline by Richard Foster, the final discipline he explores is this one.  I laughed because I thought it was tucked into the last chapter since it wasn't as important (dare I think Richard Foster also struggles with this practice? LOL), but when I reread it the other day, I learned otherwise:
"Celebration is central to all the spiritual disciplines. Without a joyful spirit of festivity, the disciplines become dull, death-breathing tools in the hands of modern Pharisees. Every discipline should be characterized by carefree gaiety and a sense of thanksgiving.,, This is why I have placed celebration at the end of this study. Joy is the end result of the spiritual disciplines' functioning in our lives."
Personally, I find myself mired in moments of disappointments, distractions, and disorder. I live more scattered than joy filled; fractured not whole. My heart thirsts for the joy of the Lord I know he has for me.
So I decided to explore the practice of celebration this month and I hope you come along with me on this adventure.
Quotes about the Spiritual Practice of Celebration
Here are some wise words about celebration to get you thinking about this practice:
Since, then, you have been raised with Christ, set your hearts on things above, where Christ is, seated at the right hand of God. Set your minds on things above, not on earthly things
Colossians 3: 1-2
******
The Lord your God is with you,
    
the Mighty Warrior who saves.

He will take great delight in you;
   
 in his love he will no longer rebuke you,
    
but will rejoice over you with singing
Zephaniah 3: 17
******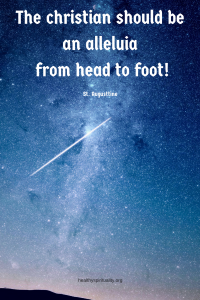 Rejoice in the Lord always. I will say it again: Rejoice!
Philippians 4: 4
******
We have God's joy in our blood.

Frederick Buechner
******
The fullness of joy is to behold God in everything.

Julian of Norwich
******
Joy is the most infallible sign of the presence of God.

Pierre Teilhard de Chardin
****** 
Think of joy as a tank. I feel healthiest and most connected to God when my tank is full, and I fill the tank by practicing joy. . . .
 By the same token, stress and anxiety siphon off the joy in my tank.
Gregory Popcak
******
Joy is the holy fire that keeps our purpose warm and our intelligence aglow.
Helen Keller
******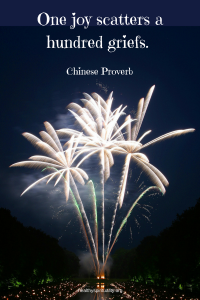 The heart overflows with gladness, and leaps and dances for the joy it has found in God. In this experience the Holy Spirit is active, and has taught us in the flash of a moment the deep secret of joy. You will have as much joy and laughter in life as you have faith in God.
Martin Luther
******
Be good, keep your feet dry, your eyes open, your heart at peace and your soul in the joy of Christ.
Thomas Merton
******
The Spiritual Practice of Celebration: A Prayer Reflection Guide
I mentioned above that I am excited to share this month's free download with you: The Spiritual Practice of Celebration: A Prayer Reflection Guide.
This prayer guide can be incorporated into your daily prayers, a retreat setting or anytime you hunger to refresh your prayers and spend time with the God of Joy. I have included spaces between each section for your own journaling and additional prayers, verses, quotes and reflections.  I hope this will be a working document, alive with your thoughts and conversations with God.
This Prayer Reflection Guide is organized in the following 6 sections:
Gathering Prayer
Scripture
Quotes
Reflection Questions and Prompts
Response
Closing Prayer
May this reflection guide invite you to dive deeper into the practice of celebration by spending time with God pondering the joy that gives you nourishment for your spirit and food for thought, and draws you closer to him.  Click below to get the free download:
Next week I will share tips and ideas to incorporate more joy into our daily living.  But it's your turn:
Let's talk about celebration. Is this a hard practice for you?  How do you celebrate your life with God?