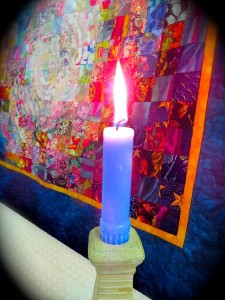 Going on retreat is an essential spiritual discipline for me. Time for silence and learning informs the mind and forms the spirit. I leave refreshed, renewed, transformed – not quite the same as I arrived. I have always heard and wanted to attend the Upper Room's Five Day Academy as they seemed to share my heart for spiritual formation and growth. My opportunity finally came around last week in Henry Illinois.
This retreat provided time of silence, worship, music, laughter, walking and learning. The two presenters were Dr. Don Saliers, a scholar of worship and Rabbi Chava Bahle. Both speakers fed our minds and souls but I must say, Rabbi Chava was one of the best inspirational and moving speakers I have ever heard. I felt like I was sitting at the feet of a teacher full of wisdom.
I gained a deeper understanding and love for the Jewish faith, our roots, our Judeo-Christian heritage. I learned new insights to the Jesus's faith and what shaped him. I became more knowledgeable of what the Jewish faith looked liked at the time of Jesus.
We discussed and practiced Midrash, a way of studying the Bible and hearing God speak through his words. This is one method I will continue to use in my study.
Rabbi Chava's presentation focused on the Psalms. I fell in love with the Psalms again and hunger to dive into their words once again. We read them every week in our church's worship service. I talked with the pastor yesterday and over summer we are going try new ways of reading them. I want to honor their words and make them come alive to others. I hope to make them more than an occasional reading but part of my daily devotions.
One of the most important aspects of this retreat was I spent time with God and soaked in his presence. I listened. I felt his embrace. My word of the year is enfold and my un-word in undivided. I lived both of those words last week. This connection with God is vital. It is like breathing.
The five-day academy also presented the gift of a deep sense of community. The worship and music focused on God.
I left with ideas and resources, renewed encouragement and perhaps more precious – a closer walk with God. I came to the living water and satisfied my longing thirst.
Some of the practices will probably pop up here on future blog posts and definitely as words will bubble up as result of the practices and reflections from this experience.
One question that was asked and lingered with me is: Imagine Jesus asking me what is my greatest need right now. Pray and ponder that question – it's well worth exploring.
Another thought that continues to stay with me is this: the point is not to know God, but to enter his goodness and commune with the Oneness.
In silent times I befriended my inadequacies and that feeling of never being enough. They still are part of me but perhaps not as overwhelming now that I have "invited my hindrances to tea."
And my, did the lyrics of music nourish me. You who write music and sing in choirs don't forget how powerful you are. Those of you who read the scripture during worship or out loud to a grandchild plant seeds you never see. One word, one phrase can be life changing to the listener and you may never know.
Dear friend, go on retreat. The world is too noisy, our lives too busy. Spend time with Jesus.
Here's what I want you to do: Find a quiet, secluded place so you won't be tempted to role-play before God. Just be there as simply and honestly as you can manage. The focus will shift from you to God, and you will begin to sense his grace.
Matthew 6: 6 The Message
"Come with me by yourselves to a quiet place and get some rest."
Mark 6: 31 NIV 
We are called to retreat. Whatever form – directed, silent or a mix like this one – that appeals to you. I try to practice this discipline at least once a year. I know it is a form of self-care, food for spiritual growth and fuel for spiritual journey.
On the last day, the world slowly began to enter into my seclusion. As I walked I heard a boat on Illinois River. A farmer started up his tractor for spring plowing. Inside the suitcases rumbled down the hallways. People greeted each other with friendly a good morning. I even watched a helicopter speed fast over my head from one point to another without ever noticing me below. We slowly emerged from here to return to home.
Our ministry is to seek out the light that is hidden – in us and in others. Imagine how much brighter the world would be if everyone's light shone longer and brighter. Let's help one another.
Do you go on retreat? How does it affect your spirit?