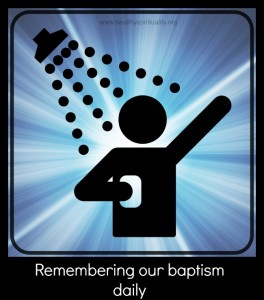 Do you remember your baptism?
Some of us come from beliefs where babies are baptized, while others practice baptism only with adults or near adults. Some of us sprinkle water at a font and others immerse fully. Anyway we are baptized, most of us believe we are marked with Christ in this sacrament.
Do you think about your baptism often? Daily?
My local church newsletter lists the upcoming month's birthdays and below these dates, there are the dates of when people were baptized. This serves as a reminder to remember that we are children of God, loved by him and part of his family.
Being baptized is not just a one-day celebration with candles, water and family. The day of our baptism is the day God connects with us deeply. Now that is something worth honoring and celebrating.
While I was on retreat a few weeks ago, one of the participants shared how she remembers her baptism each day.
When she showers in the morning, she puts her hands on the head saying aloud "Remember you are a beloved Child of God."
Then she puts her hands on her heart saying, "Remember all you meet today are also loved by God."
Through the water and the Spirit, she is reaffirming who she is and how she is to treat others. She remembers her baptism daily with this practice.
Baptism is a gift from God and what a neat way to honor that gift each day. Daily we unwrap this treasure from God reminding our hearts that God loves us as we are and wants to be in relationship with us. We are His and He is with us.
So next time you hop into the shower – remember your baptism. We are recipients of God's gift of love and acceptance. Imagine how life would be if we honored that belief daily by remembering and living our baptism.