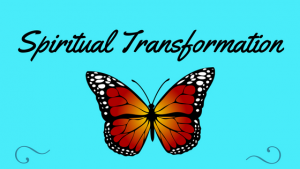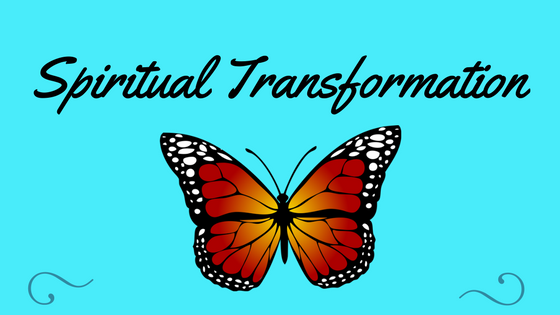 Let God transform you into a new person by changing the way you think.
Romans 12: 1 (NLT)
Transformation?  What? Let God transform me?  Change? Who, me?  Do I hafta? 
Ideally, I should embrace and welcome God's molding my life, but to be honest, I like my comfort zone, me being in control, and the knowledge of predictability and stabilization of what I expect.  Note: "what I expect."
In May, here on the Healthy Spirituality blog, the spiritual practice of transformation will be explored.  Each month on my Thursday posts, I pick one theme (or person of faith) to explore deeper. I call this series Tending the Holy Thursdays.
Have you noticed the trend this year for my monthly themes are NOT my strengths, but practices that challenge and stretch me in new ways? I am sure glad you come along with me on this journey and appreciate the community support and shared wisdom.
As usual I created a free download for you.  I wrote out a worksheet for myself and to share with you called "Transformation Reflection Guide: Questions and Quotes to Quicken Change."  Each quote and/or bible verse is followed by a question to prompt prayers, journaling and thoughts. I have left space after each one for you to add notes too. You can get this free worksheet by clicking the button at the end of the post. It is my hope and prayer that this series and the download will enhance your walk with God.
Be sure to sign up to get Healthy Spirituality in your inbox, so you don't miss any of the weeks (I promise I never over send stuff to you). And invite your friends to this blog and share on social media.  I sure do appreciate the support in spreading God's word.
The Practice of Spiritual Transformation
Spiritual transformation in the work God does within us to shape us more like Christ. It is about God, not us.
Transformation is a slow, lifelong process.  I love the image of us being the clay, pliable in the Master's creative hands.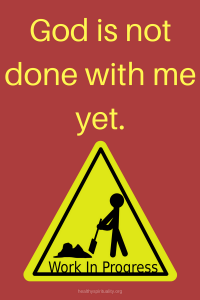 Transformation can also be a scary time for us humans. We feel vulnerable and question our identity with so many changes. Remembering our true self is found as a beloved child of God anchors us through all the ups and downs of our internal renovation.
Transformation also may involve letting go of old ways of doing things, of beliefs that no longer fit and even images of how we understand God and his love. Though this can be difficult and uncomfortable, the change leads to wisdom, healing and opportunities to stretch and learn.
Transformation contains some fear and doubt, especially with the feeling of powerless and of the fear of the unknown, but also  with graced-filled trust as we keep our eyes on God.
We are God's finest fixer-upper.
[Tweet "We are God's finest fixer-upper. Jean Wise"]
Symbols of Spiritual Transformation
One of the most popular and my personal favorite symbol of spiritual transformation is the butterfly.
I find hope in the statement, "There is nothing in a caterpillar that tells you it's going to be a butterfly."
You know the routine: first a caterpillar, then a cocoon, wait, wait, wait – then the beautiful butterfly emerges, unfurls its wings and flies. The metamorphosis from furry crawler to winged beauty is miraculous.
The actual process that occurs is radical – with the initial form of the caterpillar dissolving before its grand debut of a new creature. They melt before being reformed.
When I think of spiritual transformation the words, radical, melt, dissolve – makes me uneasy. What all will God ask me to give up in order to become more like him?
I had a good friend tell me one day she could never completely surrender to God because she was too terrified he would take her children.  I never forgot that statement. More than once I have knelt before God with tears and trepidation, laying before him, my life, my love, my all and it is hard.
The willingness to crawl like a caterpillar into the Creator's world and to rest in his cocoon even as it hangs by a thin thread swaying in the world's winds is all part of the transformation.
The Work of the Spirit in Transformation

I don't have the answers to this change that does happen to us on this spiritual journey on earth. But I do know God is with us all the way.
I can grasp the idea of growth when I see the rapid changes in my grandchildren as they get taller. I have lived long enough to experience the ups and downs in life with joy and sadness, illnesses and deaths.  I see the beauty of the changing seasons, all full of the sureness of each yearly return and the unpredictability of its timing or the weather conditions it brings.
Transformation holds both known and unknown elements. I know the God who designed this process, yet can't fully grasp the mystery of this metamorphosis. These changes are outside of my human understanding and control, yet the results lead to beauty, wholeness and new flights.
Transformation is a God-ordained miracle.
[Tweet "Transformation is a God-ordained miracle. Jean Wise"]
What do you think?  I would love to hear some conversation about how you view spiritual transformation.
I am excited to dive deeper into this topic. Next Tuesday I have a special guest post for you by my friend, Ceil Ryan and on Thursday will share some quotes to ponder about transformation.
Don't forget to click on the button below to get your free guide: "Transformation Reflection Guide: Questions and Quotes to Quicken Change."  In this resource, I share 45 quotes and questions to prompt your self-reflection about transformation.
Please leave a comment below. What does transformation mean to you?