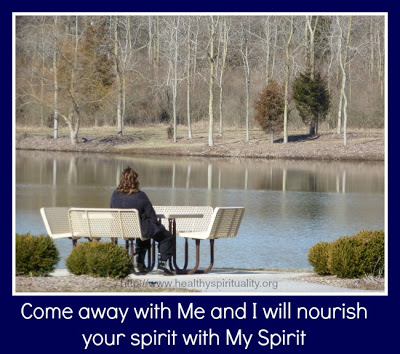 Reading and retreating – going on a retreat – are two practices that nourish our spiritual growth. In our everyday hectic distraction-filled life we need to be intentional about what feeds our spirit. Too often we focus on other people's needs or give into the addiction of busyness. We neglect the holy habits that help us hear, know and love God.
Reading
My bedside stand has been full of great books that have called to me lately and I thought I would share a few with you. Yes I am one of those types that have many books going at one time.
Keeping the Sabbath Wholly by Marva Dawn
– I am revisiting this book as I attempt to honor the Sabbath more each week. This book explores the different dimensions of ceasing, resting, embracing and feasting – a very holistically approach to the Sabbath.
Daring Greatly – Brene Brown.
I mentioned this book on
my recent post about Being Stretched
this year.  Brene researches the value of having the courage to be vulnerable and how that can tranform the way we live.  This is one book I will revisit over and over again.
The end of April I will be attending a conference where I will listen to two interesting authors;
Richard Rohr
and James Finley.  I have been reading some of their writings in preparation for those days:
This is a book to slowly read and absorb.  I write in its margins and highlight many sentences. I find many of its words challenging.
"Two universal and prime paths of transformation have been available to every human being God has created: great love and great suffering. Only love and suffering are strong enough to break down our usual ego defenses, crush our dual thinking and open us up to Mystery."  
"All great spirituality is somehow about letting go."
This book explores the ancient practice of contemplation and presents its background in simple easy to understand language. I haven't finished this one yet but I like how he directs our focus always on God.
The Cloud of theUnknowing.
  I read an earlier version of this Christian classic book from the 14th  century and to be honest with little understanding other than what the presenter told me in a class. This newer translation by Carmen Acevedo Butcher is so much easy to read and study. Each chapter is short as in 1-2 pages and the author slowly teaches the reader about contemplative prayer.  If you ever want to read this book, be sure to get Butcher's version.
Not For Sale by David Batstone –
I am reading this on my Kindle in response to a deepening call to social justice. Not the most comfortable book to read as it is about the human traficking industry that has multiplied everywhere. Twenty seven million slaves exist in our world today. Many things I buy were made by forced labor. This is not just a third world country problem; human traficking is happening in our own backyards.
Retreating
My hope is to attend at least one multi-day retreat each year. I don't always make that goal, but I know these days away with the Lord centers me and nourishes me. I do love retreating.
This month I will be at a two retreats.
The first one this coming weekend I am presenting twice. I participate in a local group called the Carpenter House Ministry and we are often invited to come to retreat centers in NW Ohio to lead retreat. The theme of this particular one is "Sailing the C's of Marriage."
The question is since I am presenting can I also receive? If I am intentional I usually can find time to drink in the Lord. I plan to bring my journal and spend some time in their beautiful
neighboring cathedral.
I pray to stay open to hear God's whisper in the messages from the other presenters and from conversations with the participants.
The next weekend I am attending a four-day SILENT retreat. Yep, I will shut my mouth for four days. Hard to believe?  This retreat is also at a beautiful center in Ohio called the
Lial Renewal 
Center.
We open with dinner and chatting Thursday evening then enter into silence. We do meet with a spiritual director each day to share what we are experiencing. I have learned in the past it takes time for the noise of the world and all the internal dialogue in my brain to drain away for a space for God to enter in. Again my journal and my Bible and lots of time gazing and listening for God will be my nourishment.
What books are feeding your soul presently? Do you plan a retreat this year? What are you reading and retreating?