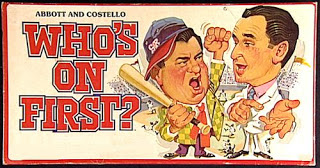 Remember the old Abbot and Costello skit: "Who's on first, What's on second, I Don't Know is on third…"
I have been pondering that question lately: Who's on first? Who is first in my life? I wish I could say God was all the time, but to be honest, that is not always true.
I heard a speaker a few years ago, Rev, Dan Schrock, pastor of the Berkey Avenue Mennonite Fellowship in Goshen Indiana, speak about five attachments we cling to instead of God. Many of these affections are not bad, but just disordered. We hold onto them tightly, putting them in first place – a place reserved only for God.
"Do not worship any other god, for the Lord, whose name is Jealous,
What takes the place of God as priorities in our hearts and lives?
1. Physical objects – that new truck, our laptop, the home we have lived in for 26 years
2. People – This could be a highly regarded mentor, a close friend and of course, our family
3. Images of self – Being competent, your education, your job, being known as an expert.
4. Feelings – discouragement, anxiety, fears
5. Spiritual things – A special prayer practice, a pastor or a church building, even your image of God
I was aware of the first two, but the last three gave me new perspective to what blocks me from God.
I have long felt pride in my self-image as an independent woman. Lately God has shown that my self-sufficiency is not always a strength, but a weakness. He is the strength I rely upon in my dependence fully on him, not in my independence and reliance on myself.
I struggled much of my life with the feelings of discouragement and anxiety. I have allowed them to control my behaviors, when God is the only one really in control.
Spiritually I hang onto the images I have of God instead of answering his invitation to see him in new ways. Or even with no image – just blind faith in him to lead me.
God only has eyes for us. His eyes focus on his creation. He invites us to do the same with him. To have him as number one, for God to be our primary focus, in our hearts, minds and lives.