What is spiritual scaffolding?
Three workers were cutting stone. 
When asked what they were doing, the first answered, "I am cutting stone."
The second said, "I am making a wall."
The third replied, "I am building a cathedral."
I was reminded of this great story about vision while in
New York City
a few weeks ago. We visited many of the tourists' sites including the beautiful St. Patrick's Cathedral. As we turned the corner to see its tall spires reach up to heaven, we were surprised to see the outside of the church surrounded by scaffolding. A major renovation was taken place.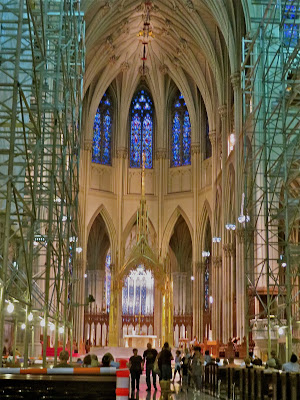 We quietly entered its large sanctuary to discover the interior walls encased in more scaffolding. The banner proclaimed, "Restore St. Patrick's. Be a cathedral builder."
I sat quietly on one of the pews, starring at the only visible sign of construction: the steel scaffolding engulfing the church's interior. From a brochure, I learned the work was not cosmetic, but a necessary repair that will ensure that the Cathedral endures for future generations.
Maybe we are all a little like St. Pat's. Some spiritual scaffolding is necessary to complete God's work on us.
Our hearts need major renovation to follow God more closely. To hear him more clearly in casting his vision. To be the type of cathedrals he needs in his kingdom. After all we ARE the church.
God is the master carpenter; he holds the blueprint for the completion of our souls.
Spiritual scaffolding reminds me that God is not done with me yet. The process will take a long time – a lifetime – to complete. The foundation of the renovation based on prayer.
Even St Patrick's recognizes that prayer continues even if scaffolding encircles the church. This banner hung outside the main entrance welcoming both visitors and the rushing people passing by: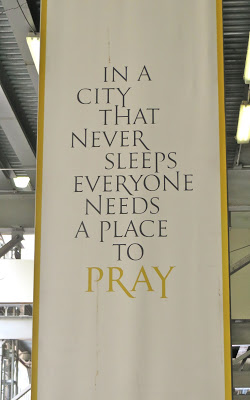 So pound away, Lord. Complete the work you have begun within me.
Put as much spiritual scaffolding as needed to renovate me as you wish.
Scrub the grime from the walls of my heart.
Repair the holes that let the world seep in.
Restore me with your strength and refurbish me with your love.
And when this temporary scaffolding is removed, may others only see you.
After all, we aren't just cutting stone and hammering nails, we are building a cathedral.
What have you seen lately that spoke to you about God?