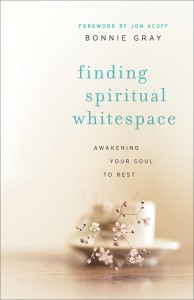 Ready for a rest? Tired of fighting yourself? Find some whitespace in your life.
I just finished reading Finding Spiritual Whitespace – Awakening your Soul to Rest by Bonnie Gray. Whitespace isn't just blank – it is space in art or on a page that left white adds beauty.
"Spiritual whitespace make room – room in our hearts for a deeper, more intimate relationship with God, room in our lives for rest, room in our souls for rejuvenation. This hunger for beauty, for space for the soul to breath, resides within each of us."
I liked this book for quite a few reasons.
One: the practical questions and guidance at the end of each chapter. A reader could journal on their own or discuss in a small group. This is a book I read straight through but now want to reread slowly and journal after each chapter. A book to enjoy twice.
Two: Great inspirational quotes to help guide us deeper into the concept of creating space and rest for God.
Three: Bonnie's honest, raw and at time heartbreaking personal story of unexpected panic attacks. As she writes this book she uncovers wounds that never healed that drove her away from rest; as she writes this book, she slowly unwraps the past and allows God's spirit to heal her. Her amazing story shows how God walks alongside of us during difficult times and how his presence makes us whole.
Inner work is hard work. We have to intentionally be open and willing to receive God's healing light. Often is it easier to escape into old habits or busyness, instead of pausing and allowing God to restore our souls.
Inner work can be messy too. But God isn't a god who sits far away in a corner in heaven. He came down to earth to be in our jumbled disorder and he still comes to each of us today in whatever tight and tangled web we find ourselves in.
Finding Spiritual Whitespace is a book of hope and healing. A good summer read!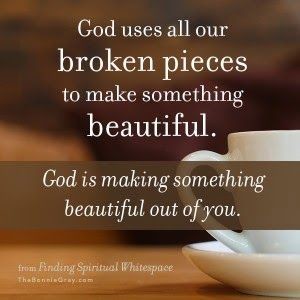 This book was provided to me free of charge in exchange for a sincere review of its contents. This review is my honest and personal review of the book and was not edited or changed by the author or publisher in any way.