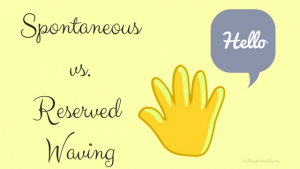 Buzzing along a few weeks ago in my car, I passed a friend's house with my cruise control set at 58 mph. Yes, minding the law and following the rules…
He was walking up his gravel driveway, his back to the road, mail in his hand. I tooted my horn. Immediately, he raised his arm and extended his hand in an automatic gesture, returning my honked greeting.
A spontaneous hello.
I don't think he even knew who signaled this greeting. He naturally returned the welcome with a friendly wave.
This tiny incident lingered in my heart. I am not a spontaneous waver; I am more reserved.
Waving Equals Being Friendly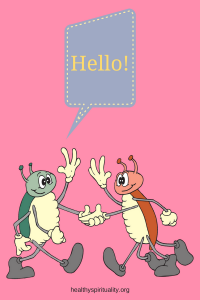 We moved to this small village in 1981.  I remember one of the first things the wise school superintendent told my hubby and I was this:  This is a friendly town. If someone honks, you wave. Wave even if you don't know who is passing by.
Knowing that piece of wisdom from many years ago, my assessment that I am slow to wave made me think about how this simple act conveys friendly sociability.
The Power of Waving
Waving makes the world a better place.
[Tweet "Waving makes the world a better place. Jean Wise"]
This simple gesture communicates a smile, a welcome, a saying "hello I see you and connect with you."
I read last week one of the biggest motivators for humans is the need to be accepted and to belong.  Waving hello feeds that hunger in us.
Waving is a universal greeting, sending a message of friendship, respect, and even love.
The open hand waving signals to the others you are not armed with a weapon and are a friend. The stretched out open palms communicates you are safe with me.
Is My Reserved Waving Wrong?
I am more reserved and not a quick to wave as some people. When I look "reserved" up in the thesaurus, other suggested words are: standoffish, snobbish, distant, unfriendly, cold, detached. Mmmm, not very nice words.
I could use the excuse of being shy and modest. I am.
I could mumble something about having a lot going on in my life and my head. I am busy.
I could

tell you,

lie that I didn't see you. Well, that's not true.
I do want to wave and often do – just delayed.
That's what I can say:  Sorry, I am just slow.  LOL
Different Types of Waving
Have you ever thought of about the different types of waving?  The Queen Elizabeth Royalty wave. The Hey You I really missed you wave.
Read more about all the styles of waving here and what they mean in this interesting article.
The Spiritual Practice of Waving

Amazing, isn't it? What started as a simple observation as I traveled on the highway has led me into prayer conversation with God. What does this mean, Lord? What are you teaching me?
I love how God guides us when we pay attention to the ordinary around us.
My lessons so far are:
Remember people first before my internal to do list.
A good reminder to be aware of what my nonverbal actions/non-actions are communicating.
While I can work on being friendly sooner, I'm an introvert who holds back in many situations. Be gentle with myself. Reserve is ok, too.
Pay attention to when a thought or observance lingers in my heart – I may just learn something about myself or the world around me.
And next time, please honk. I could use the practice. I am working on waving hello.
Are you a spontaneous or reserved waver?