See! The winter is past; the rains are over and gone. Flowers appear on the earth; the season of singing has come, the cooing of doves is heard in our land. Song of Solomon 2:11-13 (NIV)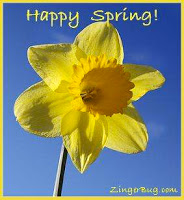 The season of singing has come!
Lord, I love how you wake up the earth in spring. 
How your hope blasts through the trumpets of daffodils with the music of  "I am alive and love you." The bells of pink and yellow tulips ring in triumph beating away the chilled wintry air. The scent of lilacs drift through the warming breezes. Spring does make me want to sing.
The season of singing – what a great way to describe the feeling of this year.  I can almost hear the earth singing with you, Lord.  Can I join in too?
I hum my little tune of thankfulness for arriving safely through dark January and February into the light-filled March and  April. I jump with joy seeing the robins, dancing in the rain puddles. I am like a child anticipating Christmas when I see the first signs of pointed green leaves erupting from sleepy dark earth.
Thank you, Lord, for this season of singing. The whole earth responds to your voice by returning once again to life. 
Your resurrection. The earth's resurrection. Your life restoring all life.  Rejoice in the season for singing.