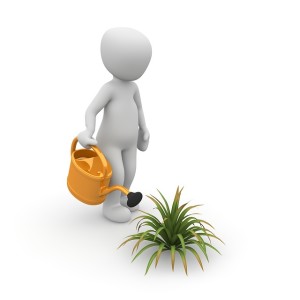 Springtime Gardening
My backyard bursts with new growth and springtime gardening. Tiny seedlings emerge through the dark earth with green eagerness and daily surprising transformations. Spring is a time of awakening.
One section near the fence is covered with a multitude of small sprouts extending their teeny arms upward. It reminds me of baby birds all stretching their heads up, screaming feed me, feed me. As a gardener I see a problem in this area – I need to thin out these new growths for a healthier batch of flowers later in the summer.
The dandelions are also quite healthy in my garden. With deep roots and bright yellow faces, they are the first to bloom. They taunt me: "Ha, see we are back again. No use trying to get rid of us. We will return to take over your precious garden bed!"
Then there is the issue of "What is growing there anyway?" Is it a weed or is it a fogotten bloom I planted a long time ago? Do I let it grow and later regret not digging it out now? Or will it surprise me later? Decisions requiring answers now determine my gardening plans.
My spiritual life reflects springtime in my garden. After a restful winter, nourishing my roots, I think it is time to show some new growth. God has called me to write and speak and as the Gardener's hired hand, I need to now cultivate and let some new seedlings sprout. What is awakening in me spiritually?
What areas in my life need thinning out? I am so good at creating vast plans of all I want to do and see yet often fail to complete. What is my spiritual priority this spring? I explode in too many directions instead of focusing on one area. The many to-dos on my list and my overstuffed schedule needs reduced and prioritized.
And what do I need to weed out? Probably something I have previously dug out from my soul yet whose seeds still continue to thrive deep within me. Pride? Fear? My desire to controlling everything? Once again I realize I function out of "what's in it for me?" syndrome instead of "How will this bring glory to God?"
And what about those tiny unrecognizable seedlings? Weed or flowers? My decision to keep some and remove others leaves me uneasy. I remember what Theresa of Lisieux wrote: "The splendor of the rose and the whiteness of the lily do not rob the little violet of its scent nor the daisy of its simple charm. If every tiny flower wanted to be a rose, spring would lose its loveliness."
Often we set New Year's resolutions in January. I think May is a great time for a new look at our spiritual journey, where we are and where we are heading. Like a spring garden, I bet you will discover new growth, areas that need thinning and the some pesky weeds to dig out. Don't be afraid of working and getting your hands dirty. Remember God created and placed us in the garden of life. Our job is to work there! What is awakening in your soul?