Hear my prayer, O Lord God Almighty; listen to me, O God of Jacob.  Selah
Look upon our shield, O God; look with favor on your anointed one.
Better is one day in your courts than a thousand elsewhere; 
I would rather be a doorkeeper in the house of my God than dwell in the tents of the wicked. 
For the Lord God is a sun and shield; the Lord bestows favor and honor;
No good thing does he withhold from those whose walk is blameless.
 O Lord Almighty, blessed is the man who trusts in you.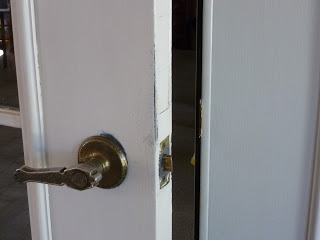 I would rather be a doorkeeper.
I wonder what it would be like to be God's doorkeeper.
To see all who comes and goes.
What they look like and what they carry to God?
I wonder if God's doorkeeper ever puts her ear against the door and quietly eavesdrops.
Does she ever enter herself?
Does God even see her standing there?
Lord, at times I am your doorkeeper.
I stand half way, on the threshold of fully committing to you.
set to run back to my wicked ways.
I linger around the edges of Your goodness, wanting more yet afraid to ask.
I wait, but nor sure why I hesitate.
I dawdle with my reluctant heart and stubborn feet.  
The Psalmist sings, "Blessed is the man who trusts in you."
Help me to trust you more – to run through your door into your waiting arms.