For I was hungry and you gave me food,
I was thirsty and you gave me something to drink,
I was a stranger and you welcomed me,  
I was naked and you gave me clothing,
I was sick and you took care of me, I was in prison and you visited me.'  
Then the righteous will answer him, 'Lord, when was it that we saw you hungry and gave you food, or thirsty and gave you something to drink?  
And the king will answer them, 'Truly I tell you, just as you did it to one of the least of these who are members of my family, you did it to me.'
Matthew 25: 35-37, 40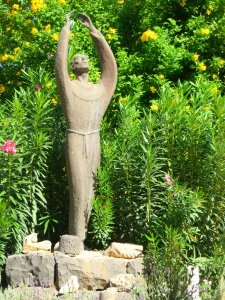 Lord pour compassion into my heart so I reach out to the hungry more often. I have three meals a day plus a cupboard overflowing with snacks and 'just in case' food. So many go to bed hungry. Open my hands to help them more.
Clear my vision, Lord, so I truly see the stranger and make them feel welcomed. Help me to look deeply and connect with others. Stop me from not connecting and this continual skimming by, barely noticing their hurt, their loneliness, their deep desire to be accepted.
Lord, increase my awareness of those without when I have so much. I have more clothes than I need and catalogs and web sites shout out to buy more. Help me simplify and condense so my resources may be used in your wider service.
Lord your healing touch has restored me so many times – teach me how to heal others with your touch too. Your warmth and caring has eased my pain – may I transmit your love to those who hurt.
Lord, so many live behind the bars of sin, doubt, confusion – release us from this bondage so we may live freely with you. I am blessed to live in a country with religious freedom unknown to many parts of the world. Fellow Christians who just because of their faith, can't vote, can't apply for passports, can't freely worship and discuss their faith. I pray for them and for people of all faiths so they may worship you as they feel called without fear, discrimination or violence.
Lord, give me the wisdom to know what is right and the strength to serve you in this world. Increase my understanding of those with fewer resources and forgive and take away my criticalness, conceit and judgment, remembering all I have comes from you. Lord, forgive my possessive and selfish nature.
Less of me – my wants, desires and demands and more of you – reaching out, connecting, healing. Help me see you in the eyes of my fellow humans and find you in the hearts of the world. Make me more generous and loving like you.