We get it wrong nearly every time we open our mouths. If you could find someone whose speech was perfectly true, you'd have a perfect person, in perfect control of life.
A bit in the mouth of a horse controls the whole horse. A small rudder on a huge ship in the hands of a skilled captain sets a course in the face of the strongest winds. A word out of your mouth may seem of no account, but it can accomplish nearly anything—or destroy it!
It only takes a spark, remember, to set off a forest fire. A careless or wrongly placed word out of your mouth can do that. By our speech we can ruin the world, turn harmony to chaos, throw mud on a reputation, send the whole world up in smoke and go up in smoke with it, smoke right from the pit of hell.
 This is scary: You can tame a tiger, but you can't tame a tongue—it's never been done. The tongue runs wild, a wanton killer. With our tongues we bless God our Father; with the same tongues we curse the very men and women he made in his image. Curses and blessings out of the same mouth! 
James 3: 2-10 (The Message)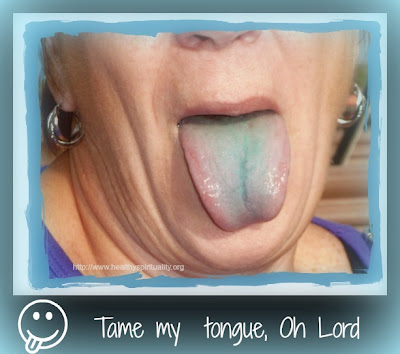 You can tame a tiger, but you can't tame a tongue—it's never been done.
Control my tongue, Lord. Only You can harness this unmanageable muscle of mine.
Fueled by my ego, words spill out like unruly kids at recess.
Wild and disobedient, my mouth rebels and bolts from its muzzle.
I try. I try once again to rein in my tongue.
You tell me I cannot tame it on my own.
Never, Lord? You mean I will never control my tongue?
Oh, I need Your help, Lord.
Place Your Holy Hands over my mouth.
Spirit, help me remember to pause before speaking.
Purge my lips and cleanse my heart so all the bubbles forth be pure and holy.
May the words I say be Your words.
Bless what I say to be life giving, uplifting and point only to Your Wisdom and Majesty.