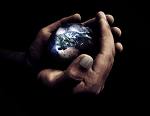 Telling God What To Do
Well, I did it! I took over the world, actually the entire universe today. Yep, I am in charge. And if you don't believe if, you should have heard my prayers this morning.
Suddenly I stopped and listen to what I was saying to God. I was telling God what to do. My morning prayers created a deluge of excess words and phrases beginning with do this, fix that and don't forget to….. I was bossy, demanding, and obnoxious. Why if I were God I would annihilate that human in an instant! "ZAP!! You be gone, Lord-wanna-be!"
Thank heaven we have a God of love and grace.
God is the creator
We are the creature.
God is the Father/Mother
We are the children
God knows
We follow
God speaks
We listen
I believe God understands when I spill my wants and needs out to him. He knows the depth of my emotions and the intensity of my desperation when I try to seize control. He is patient beyond words with my childlike behavior and my temper tantrums. And He still loves me!
The focus of my prayer life should not be on me. God alone gets the glory. Too often I lose sight just who I am addressing.
Prayer is not a list of demands and pleas, but the act of crawling into the heart of God and nestling in his love.
Frank Laubach wrote, "The trouble with nearly everybody who prays is that he says 'Amen' and runs away before God has a chance to reply. Listening to God is far more important than giving Him our ideas."

So you all can relax knowing I am no longer in charge and have resigned as head of the universe. I have given control back to the One who really knows the best way to manage the world.
I think from now on I will let God do his job and I will do mine. I will listen more and talk less. I will rest with God, not ramble off a list of demands. I will approach His throne realizing who He is and who I am.
"Prayer is first of all listening to God. It's openness. God is always speaking; he's always doing something. Prayer is to enter into that activity. … Convert your thoughts into prayer. As we are involved in unceasing thinking, so we are called to unceasing prayer. The difference is not that prayer is thinking about other things, but that prayer is thinking in dialogue, … a conversation with God. Henri Nouwen