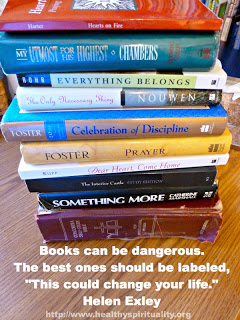 I love books!Reading the words written by wiser, much more mature Christians nourishes my spiritual journey.
I don't just read books; I highlight words, dog-ear the corners, and rewrite quotes in my journal. I print out soul-refreshing lines and hang them around my desk or clip them into my blank books. Their prayers, often birthed centuries before me, send their roots deep into my heart and bubble up to my lips.
I thought I would share with you today ten books that kindle my spiritual walk. Sigh, only ten?Now I could easily list more, but the Internet may crash from its weight and ten is such a nice number. So ten it is:
1. NIV Study Bible – I have other Bibles and have looked at many more, but this torn, underlined, scribbled in the margin version is my treasure. The edges unravel under the tape and it is too bulky to skip easily into my purse, but how could I part from this long companion?
2.

 

Something More by Catherine Marshall. I had trouble choosing which Catherine Marshall book to list. I devoured her writing as a teenager – she spoke to my heart, her words led me closer to God and she is one reason why I am a writer today. I didn't read this book – Something More until my mid 20's and her honest sharing of her spiritual journey – feasts and droughts, how the Holy Spirit walked with her during all times, and how to maneuver past the detours and potholes of life – lit the way for my own travel with God.
3. My Utmost for His Highest – Updated Edition – Oswald Chambers. What can I say? I am on my fifth year using this book as a daily devotional and continue to learn at the feet of this Christian man. Each day the message – though read now for years – is fresh and new.
4.

 

Celebration of Discipline – Richard Foster. I am going to mention two of Foster's books. This one first released in 1978 has guided me most of my adult life. This book first taught me about the spiritual disciplines, holy habits that opened my heart so I was more aware of God's presence. Here is where I learned the value of meditation, prayer, fasting, study, solitude, submission, service, guidance and worship. Foster also was the author that introduced me to so many Christians who went before us, our "great cloud of witnesses" and from whom I continue to learn from today.
5. Prayer – Richard Foster. There are so many great books on prayer, but this one is my favorite for its easily explained and comprehensive overview of prayer.
6. The Only Necessary Thing – Henri Nouwen. Ok, Nouwen is another author I wanted to list more than once. I love his writing and really think he was writing just for me. HA! A few years ago my hubby and I camped in the UP of Michigan. It was one of the first trips we took without kids and I was in a real transition time with my role of a mother changing, as they became adults. This was the very first book I read by Nouwen. When I hold that book I am immediately back in that camper, orange highlighter in my hand, underlining every other sentence. I identified with Nouwen's longing for God, his deep desire to create space to communicate intimately with Him, and to be a person of prayer. "Prayer is the center of Christian life. It is the only necessary thing." (Luke 10:42)
7. Everything Belongs – Richard Rohr. Another book marked up, turned down corners, filled with sticky notes. This book awoke my spirit, broke down my walls of resistance, and helped me learn to find my spiritual center. He explores ideas I never heard of before, like cleansing your lens and don't push the river.
8. Dear Heart, Come Home – Joyce Rupp. I am sounding like a broken record, but here is another author that I own just about all of her books. What makes this book so dear to me as it accompanied me on my second silent retreat and held just the words I needed to read.

 

The subtitle of this book is "The Path of Midlife Spirituality" and Rupp by sharing her insights helps us explore this critical time in our spiritual growth. Words of wisdom about the wounds we all carry throughout life, the past regrets that we cling to, and the surprises of discovering God in the beauty of our shattered pieces.
9. Hearts on Fire – Praying with the Jesuits – Edited by Michael Harter. This is the tiny little red book you see on top of the book in the photo above. This small book of prayers – all by different Jesuits – goes with me on every retreat. One prayer will always surprise me in shining light on what I am hearing from God. "Jesus may all that is you flow into me." "With you by my side, enough has been given." "Teach me to listen, Lord."
10.

 

The Interior Castle – Teresa of Avila – study edition, translated by Kavanaugh and Rodriguez. Through my formation program to become a spiritual director, Teresa's words never appealed to me. But everything changed last month when I studied and began to understand her writings more. (Note to self: stay open. Something that earlier in life that made no sense, confused or bored me, or sounded too bizarre to ever be of value, may just be what I need in a future phase of life). Teresa walked with me at that retreat and I listened to her words. She gave me the vocabulary to describe what I was experience spiritually and wisdom to discern my next step. I look forward to continuing to learn from this great woman.
"Books let us into their souls and lay open to us the secret of our own." William Hazlitt
Ok, now I want to hear from you. What book, besides the Bible, has nourished you spiritually?