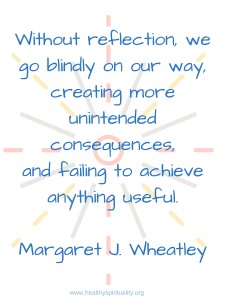 Tending the Holy Thursdays –The Spiritual Practice of Reflection –The Yearly Examen
In December, we have explored the spiritual practice of reflection and how that tends the holy within us. You can read the other December posts on Thursdays and how we used reflection on a daily, weekly, monthly and quarterly basis. Today, being the last day of the year, is very appropriate to ponder the spiritual practice of reflection using the yearly Examen.
Remember the spiritual practice of reflection gives meaning to our lives, helps us see God's presence in the details, grounds us with landmarks on our journey and enables us to let go of what holds us back in life. It's like hitting the pause button at regular intervals.
The Spiritual Practice of Reflection
I heard from my doctor this week by email of all things, reminding me it is time for my annual physical checkup. Then I felt the nudge from my heavenly Physician that it was time to examine the past 12 months before I stepped into the new year.
Or you can imagine using reflection on an entire year is like giving the house a good cleaning. The spiritual practice of reflection is our annual decluttering, letting go celebration. Physically we scrub the dirt left on the floors of our homes, straighten up the shelves and those junk drawers we rarely dive into and throw out what is broken and no longer useful. Reflection invites us to tackle not our physical space but our spiritual space.
Last Tuesday I shared with you questions I ask in preparation for 2016, always pausing to ask Lord what do You want me to know, to hear, to lean into as we enter this coming new year?
But first I practice reflection over the past year – 2015.
Ignatius invites us to try the Examen Prayer for the Whole Year in this site's step-by-step process nicely laid out in this article.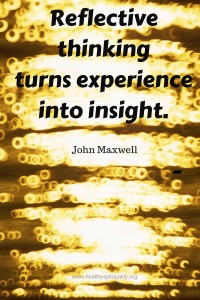 How I use the spiritual practice of reflection –the yearly examen
First I find a time where I can block off a couple of hours for some silence and solitude. I pray, and then slowly reread my journal entries from the past year. I love my highlighters, so use them freely as I summarize what I heard, learned, and how I grew.
Then I look at my calendar. I have also read that some people say to look at your checkbook and budget. Study where did you spend your time, spiritual energy and money.
I listen for the inviting questions as I reflect on the past year. Questions such as:
Where did I step out in faith, take a risk for God, relied only on Him, not my strength? Or did I do this at all? How did God stretch me this year?

What have I surrendered to God? What am I still clinging to?

What got me curious about God? What questions did I ask him? What did he ask me? I am drawn to holy curiosity as a way to get to know God better and open my self more to his love and light. I long to fully surrender this hidden dark side of me he already knows, but I think I have foolishly tucked away in some secret drawer.

What am I most grateful for from 2015?

What am I least grateful for?

Where/when has God surprised me?

What spiritual practice helped me experience God? What new practice/discipline did I try?

How have I loved? What have I learned about love? I sit with the verse:
"Love the Lord your God with all your heart and with all your soul and with all your mind. This is the first and greatest commandment. 
And the second is like it: Love your neighbor as yourself. All the law and the prophets hang on these two commandments." 
Matthew 22: 37
What do I need to let go of/forgive before the new year? I don't want to bring any negativity, open wounds or heavy burdens into a fresh clean new year.
"The most important thing I do at the beginning of a new year is leave the old year where it fell, It's good to learn from the year you just lived, but if you stare at it too long, regret over the opportunities you missed or mistakes you made will blossom." Jon Acuff
I then close my journal, thank the Lord for past year and ask to be open, willing and obedient into the next one.
The transition from one year to another is a sacred passage. This spiritual practice of reflection is powerful and honors one year as it travels back into the Lord's hands. Then my hands are empty to receive God's gift of 2016 – full of hope, strength, blessings, joy, stretching, learning and as always a grand adventure, not alone, but with God.
I read this beautiful blessing by Rabbi Frederick L Klein and wanted to share it with you, praying its words surround you and keep you in 2016:
Blessings for a New Year
May you be blessed with sudden insights and inspiration.
May you be graced with quiet moments of simplicity and reflection.
May you be supported by your loved ones when you need them.
May you be a source of strength to those around you.
May you received embraces from parents, children, and long lost friends.
May you cry at a good movie with a person you love.
May you read a newspaper and react to injustice- both in mind and deed.
May you pick up a hobby that you have always wanted to do.
May you say goodbye to habits and thoughts that have become a burden for you.
May you forgive those who have hurt you.
May you travel to new places inside yourself.
May you build the world you have always wanted for yourself and others.
May you have late mornings with a good cup of coffee, and enjoy the fresh air.
May you feel healthy- physically, emotionally, and spiritually.
May you hear the joy and the sorrow of this great universe in which we live.
And may you –and us all- be blessed with peace.