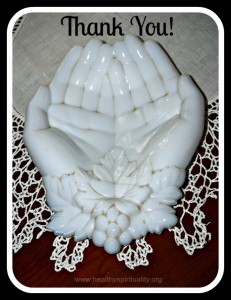 "If the only prayer you ever say is Thank you, that will be enough."
Meister Eckhart 
I am pausing from my normal posting this morning to say to each of you Thank you.
I appreciate the time you spend reading my simple words.
Thank you for being my companions on this journey of life.
I am grateful for your companionship in putting up with my detours, whining and bumps in the road.
Thank you for celebrating with me – new births, joys and God's continually surprises.
I so appreciate your comments and emails about savoring five years of Healthy Spirituality blog posts. You have encouraged me and warmed my heart. Your support means everything to me.
One of the unexpected benefits of writing a blog is the friendships I have gained here. I am so thankful for that gift. I am amazed at the fellowship in this community.
So we celebrate five years of Healthy Spirituality and our walk together!  I hope we have many more good times together as walking companions on this life journey we are on as beloved children of God. I am grateful God walks alongside us too.
The winner of the $50 Amazon Gift certificate is: Jean Chirdon.  Congratulations. And I love it that we share the same first name, too.
I will be emailing you the details soon.
At times our own light goes out and is rekindled by a spark from another person.
Each of us has cause to think with deep gratitude of those who have lighted the flame within us.

Albert Schweitzer 
******
Let us be grateful to people who make us happy; they are the charming gardeners who make our souls blossom.
Marcel Proust 
Thank you for being sparks in my life to light our paths together.
Thank you for being gardeners and helping my soul blossom.
Thank you!