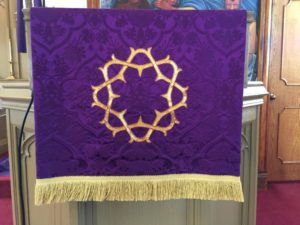 My church changes the colors of the paramounts to correspond with the church calendar season. Right now purple drapes the altar, lectern and pulpit – purple announcing it is the Lenten season.
Why is Purple the Color of Lent?
Purple is typically associated with Lent, suggesting repentance and solemnity. Purple, as all colors, is full of symbolism. Its deep dark richness invites us to slow down and consider the sacrifices Jesus did for us.
The Bible tells us that the garment the guard put on Jesus during his trial and beatings was purple. Thus, purple symbolizes pain, suffering, and mourning and penitence.
 "The soldiers led Jesus away into the palace (that is, the Praetorium) and called together the whole company of soldiers. They put a purple robe on him, then twisted together a crown of thorns and set it on him. And they began to call out to him, "Hail, king of the Jews!" Again and again they struck him on the head with a staff and spit on him. Falling on their knees, they paid homage to him. And when they had mocked him, they took off the purple robe and put his own clothes on him. Then they led him out to crucify him."
Mark 15:16-20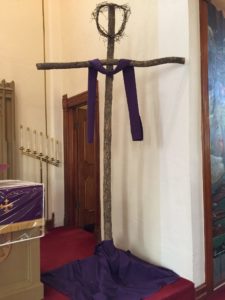 What Does this Color of Lent Mean to Me/to You?
Lent reminds me spring is coming and as many colors erupt as the weather warms, so do the purples.
Purple crocuses.
Purple hyacinths.
Purple lilacs.
Purple irises.
Purple is a color with much symbolism.
I graduated with my nursing degree from Capital University in Columbus. The school colors were purple and white. Yes – our uniforms were a solid purple with white collars. We looked like a bunch of grapes when we rode in an elevator all squished together.
But our dean would tell us – "Purple is the color of royalty."
Yes, she was right. Historically, purple dye has been the most expensive and most labor-intensive color to obtain. But we aren't the royalty – Jesus is. That is the reason why purple is the color of Lent.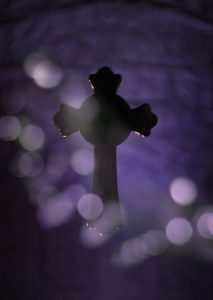 Purple can symbolize both the pain and suffering leading up to the crucifixion of Jesus as well as the suffering of humanity and the world under sin.
But since purple is also the color of royalty, it reminds us of Jesus' resurrection and hope of newness that will be celebrated on Easter Sunday. Jesus is our King, our royal King.
Research tells us that the color purple represents the balance of red simulation and blue calm. In stained glass the color purple or violet are seen as the uniting of the "wisdom" of blue and the "love" of red and symbolizes justice. Purple affects us mentally and physically with emotions that are uplifting and calming and often gives a sense of spirituality.
Purple has never been a favorite color of mine, but I feel its invitation this time of year. I find myself looking for its hues everywhere and I stop and thank God. Purple is now a trigger for praise and prayer.
"Come and listen to my story," says Purple, "a tale of pain and feeling abandoned by God with an amazing and surprising ending. The story of the resurrection of our Savior and King."
We rejected our King, our Savior in this purple account and mocked Him while He suffered and died for us.
Jesus rescued the color purple from the pits of sin, anguish, and despair and transformed it into a royal and majestic color.
Thank you, Jesus, for doing the same for us. 
What does the color of Lent – purple say to you?
PS My friend and Christian podcaster, Matthew Brough, is celebrating his first anniversary of his podcast, Spirituality for Ordinary People with a 24 book giveaway.  Check it out by entering here.