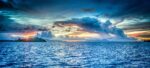 September invites me to pause, savor, and reflect on the ebb and flow of this past season. The joy of family and families gathering for celebrations. The tender moments of reconnection. The warm (perhaps too warm some days) sunshine on the back yard deck. My roses outdoing themselves in blossoms this year.
But I reread my journal, spotted with tears and anger and sadness experienced in the darker moments of life. War. Suffering. Illness. Separations.
I am slowly learning that life is more and/both than either/or. Ebb and Flow.
Good ol' Henri Nouwen says it best in this prayer:
"Dear Lord,
Today I thought of the words of Vincent van Gogh: "It is true there is an ebb and flow, but the sea remains the sea." You are the sea. Although I experience many ups and downs in my emotions and often feel great shifts and changes in my inner life, you remain the same. Your sameness is not the sameness of a rock, but the sameness of a faithful lover. Out of your love I came to life, by your love I am sustained, and to your love I am always called back. There are days of sadness and days of joy; there are feelings of guilt and feelings of gratitude; there are moments of failure and moments of success; but all of them are embraced by your unwavering love. . . . O Lord, sea of love and goodness, let me not fear too much the storms and winds of my daily life, and let me know there is ebb and flow but the sea remains the sea."
Thank you, Sea of Life, for sustaining me and embracing me with your love.
How does this prayer speak to you?