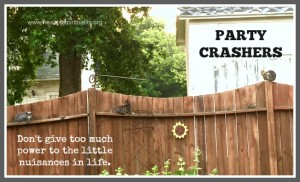 The weather was delightful in northwest Ohio for our Fourth of July cookout. Food smelled great. The table was set. Games ready to go. Friends arrived. Laughter abounded.
The Party is Crashed.
Then the Party Crashers invaded. Four grey kittens and one calico kit invited themselves into our backyard to folic and celebrate the holiday with us. It didn't bother them that two of our guests were allergic to cats.
Nor was it their concern that one of my best friends shudders with even the thought or sight of these feline beasts.
I shooed them away. I yelled. I chased them out.
Yet they kept returning.
I fretted and fussed over their insistence to stay.
We tried all sorts of remedies to move our unwanted guests – all humane of course.
I steamed as we finally moved our human group inside the house away from furry invaders.
Two of them had to nerve (probably to spite me) to sit by the back door, meowing in their cute baby voices, tilting their cute heads and begging to be invited in.
After our human company left, all five little pests wrestled with each other, explored our backyard and made themselves quite at home.
Lessons Learned
To be honest, I let this little nuisance – well, five nuisances – ruin my attitude and disrupt my attention to those who really matter – my friends.
I allowed myself to be sidetracked by a small annoyance that I didn't have control over. Perhaps that was the source of my frustration.
It could be so much worse. I needed to remember not everything is an attack on me. Quit taking this so personally. I expended a ton of negative energy into one tiny interruption in my grand plan to host the perfect party. I got so worked up over one thing, I lost focus on the things that I could actually accomplish and enjoy.
Another lesson was the reminder that while we may not be able to control the circumstances that come our way, we can control how we respond to them.
Late Saturday night, I gave up the battle and chose peace of mind. I think I may have even hummed "Let It Go" as I drifted off the sleep.
The kittens were still there in the morning. Several climbed the fence (see the photo above) peering over the edge into the world outside my garden.
We left for church. When we came home, all five were gone.
They left me? They haven't returned. All vanished.
Great! First anger issues. Now abandonment issues. Ha!
Have you allowed an unimportant nuisance to disrupt your life lately? What did you learn?