If you visit this blog often, you know I am not a winter person – difficult for someone living in the Midwest. I struggle with finding the beauty in this stark, raw time of year. I have shared some of my
discoveries
in
past posts
as I try to appreciate this season in new ways this year.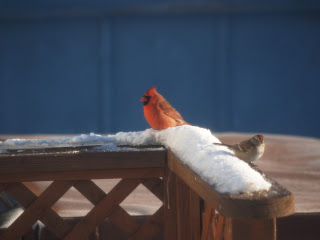 This is the first winter being in my new office in the house and I am blessed with a wonderful window that looks out onto my snow covered garden backyard. The highlight this year though is the bird feeder with its many visitors – sparrows, finches, cardinals, and doves to name a few.
I realized this morning how the pleasure of simply watching the birds this winter fills me with joy.
·

     
Full of energy and celebrating in the delight of finding seed to eat, they dance on my porch.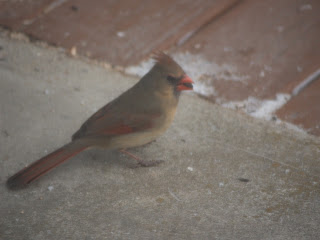 ·

     
They look after one another. Often the female cardinal will come for seed while her bright red companion watches from the bare lilac bush 20 yards away. One sparrow sits on the banister while the rest of the crew indulges in breakfast.

·

     
Though I love the brilliant red of the male cardinal against the white snow, I have been fascinated by all the shades of browns on the sparrows when I studied them closely.

"When you finally allow yourself to trust joy and embrace it, you will find you dance with everything."
- Emanuel
Details I normally ignore in my complaining about the long cold winter.
Features of this season I have missed that warmed my heart this year.
 I am grateful for the joy I am discovering in simple pleasures. I am learning to dance with everything God brings into my life.
How about you? What brings joy to your heart? What are you dancing with?