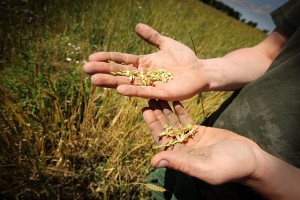 Gardening has been a major theme in my life lately, including my spiritual life. The whole concept of gardening overflows with rich metaphors and Biblical references.
How do you visualize God? When I look back over my spiritual journey, I know the mental image of God that guides me differed at various point of my life.
Right how I see him as a gardener.
I see God on his knees in my backyard, cultivating, working the soil. He wears a floppy straw hat that looks like it has had better days. He is working hard, preparing the soil and tenderly setting new plants. He is intent and focused on the job in front of him.
Where am I in this picture? I want to say I am on my knees next to him, but that doesn't feel right. I am on the deck just watching him work. Every time my ego wants to join him, something stops me and says quietly – "watch me." So I wait. Waiting is hard, but the image is so strong I feel I have no choice. I wait. I watch. I learn.
I learn God focuses on whatever is in front of Him until the job is complete. Just imagine – He watches each of us so very closely with all His attention until we are fully His.
He is not just watching us – He is working hard and with purpose, cultivating the soil, the environment around us for the best growth.
I am learning that God the gardener is an optimist, as any gardener is. Catherine Marshall wrote "It is certainly the Creator's will that the desires and talents He Himself has planted in us be realized."

And I realize I am the garden God is tenderly nurturing. He working His life deeply into my soul's soil and adding the rich nutrients to promote my growth towards Him. The plants he sets in my garden are faith, hope and love.
I barely begin to comprehend how much God loves me in this image.
My prayers are Bible verses about gardening during this time of spring preparation:
JOHN 15:1 I am the true vine, and my Father is the gardener.

ISAIAH 58:11 The Lord will guide you always; he will satisfy your needs in a sun-scorched land and will strengthen your frame. You will be like a well-watered garden, like a spring whose waters never fail.

1 CORINTHIANS 3:5 …but only God, who makes things grow.

What is God the Master Gardener showing you?