When you are in love you want to spend time with that person. You let your eyes soak in every move they make, your ears cling to their every sound, and your heart just bursts with joy.
I am in love.
In love with my granddaughter, Kyla. She whooshed into my heart in June 2009 and continues to capture my attention whenever we are together.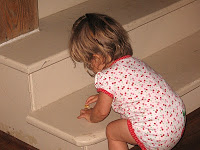 I watched her the other day. Stooping to pick up a crumb on the floor, studying it like a treasure from antiquity.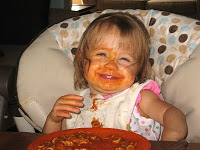 She devours spaghetti with gusto and delicious delight.

I giggled as she creates fun from an everyday object. Only a child's heart and mind can see new possibilities in an ordinary humdrum of life.
Each new day is a wonderful opportunity to learn and explore.
Kyla went with us shopping the other day. I sat in the third row of the Suburban and even as she slept, snuggled in the arms of her car seat, I couldn't keep my eyes from her.
I enjoy just the pleasure of your company, Kyla, I thought.
That phrase stuck with me –
the pleasure of your company.
I wonder if that is how God feels about us.
Does He watch as we explore the treasures He playfully and purposely hides throughout our lives?
Does He smile when we enjoy a meal He so graciously provided?
Does He get excited when we use our childlike curiosity to be creative with His promises?
Do He quietly guard us, cherish us, brood over us while we slumber?
Are we His pleasure? Does He delight in our company?
"For God so loved the world that he gave his one and only Son, that whoever believes in him shall not perish but have eternal life." John 3:16
I know the magnitude and the depth of my love for Kyla pales in comparison with God's love for each of us.
And I do believe God loves the pleasure of our company.