You must have been warned against letting the golden hours slip by; but some of them are golden only because we let them slip by.  ~James Matthew Barrie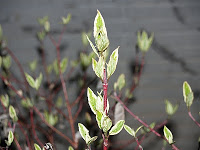 Spring is my favorite time of year. The bright colors, warming breezes, and digging my hands into the cool earth awaken me after a winter of hibernation.
Driving home the other evening I noticed the pale hint of green dancing on the edges of the trees as the earth too slowly rises from its slumber.
After a few warm days, the tight buds on the bushes in my front yard shake off their drowsiness unfurling their new leaves.
Soon every bush and tree will be fully dressed for summer.
I can't wait.
But why am I wishing away this early hint of spring? So often I whiz through the day barely noticing the emerging new life until it is fully here. For a change I pause and capture the inkling of things to come.
As a 'three' on the
Enneagram
, I tend to live in the future – setting goals and planning my next step. I fail at living in and enjoying the present moment. My glimpse at the early greens of the trees stopped me this week.
Like an orchestra warming up, the forest I passed by strikes up the first notes that build the excitement, anticipation, and hope for the future. Early spring is like the rising of the official's gun at the start of a race. For once, I savor the words "ready" and "set" without rushing into "go."
I am observing the details of life this week – the small scratch in my desk, the hum of the computer, the dance of the chickadees in my backyard.
I invite you to take a moment to enjoy the present with me.
"
May you live every day of your life"
(Jonathan Swift) is my blessing for you today.
What others have written by the living in the present:
Having spent the better part of my life trying either to relive the past or experience the future before it arrives, I have come to believe that in between these two extremes is peace.  ~Author Unknown
If you have one eye on yesterday, and one eye on tomorrow, you're going to be cockeyed today.  ~Author Unknown
No matter what looms ahead, if you can eat today, enjoy the sunlight today, mix good cheer with friends today, enjoy it and bless God for it. Do not look back on happiness — or dream of it in the future. You are only sure of today; do not let yourself be cheated out of it.

Henry Ward Beecher
One of the most tragic things I know about human nature is that all of us tend to put off living.  We are all dreaming of some magical rose garden over the horizon – instead of enjoying the roses that are blooming outside our windows today.  ~Dale Carnegie
The present moment holds infinite riches beyond your wildest dreams but you will only enjoy them to the extent of your faith and love. The more a soul loves, the more it longs, the more it hopes, the more it finds. The will of God is manifest in each moment, an immense ocean which only the heart fathoms insofar as it overflows with faith, trust and love. 
— Jean-Pierre De Caussade in The Sacrament of the Present Moment

The place you are right now 
God circled on a map for you. 
— Hafiz quoted in Marrow of Flame

by Dorothy Walters
Normal day, let me be aware of the treasure you are.  Let me learn from you, love you, bless you before you depart.  Let me not pass you by in quest of some rare and perfect tomorrow.  Let me hold you while I may, for it may not always be so.  One day I shall dig my nails into the earth, or bury my face in the pillow, or stretch myself taut, or raise my hands to the sky and want, more than all the world, your return.  ~Mary Jean Iron