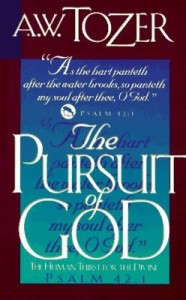 I met an old friend this past weekend – the book, The Pursuit of God by A.W. Tozer. I revisited its highlighted, dogged-eared pages and relished its wisdom. What a wonderful feast for my soul to dig into this volume once again. Isn't it great to have these treasures on our shelves?
This book reminded me to desire God above all things in my life. That deep hunger and emptiness within me is God's fingerprint luring me back to him as the source of all life. All of us – our deepest compelling question – is to know God.
Just rereading the chapters of this book woke me up – Following Hard after God (am I doing this?), the Blessedness of Possessing Nothing, Removing the Veil ( what obstacles are preventing me from seeing God in my life?), the Speaking Voice, The Gaze of the Soul, the Sacrament of Living.   Just a few of the titles that helped me silence the internal and external noise within my heart and just pause and spend time with God, my rabbi, my teacher, my friend, my lover and my grace.
Here are a few of my favorite quotes – I had so many marked I can't begin to share them all:
"Let me exhort you to take this seriously, It is not to be understood as mere Bible teaching to be stored away in the mind along with an inert mass of other doctrines. It is a marker on the road, to greener pastures, a path chiseled against the steep side of the mount of God We dare not try to bypass it if we would follow on in the holy pursuit."
"Pick at random a score of great saints whose lives and testimonies are widely known. Let them be Bible character of well-known Christian of post biblical times. You will be struck instantly with the fact that the saint were not alike…yet they all walked, each in his day, upon a high road of spiritual living far about the common way…I venture to suggest that the one vital quality which they had in common was spiritual receptivity…They acquired the lifelong habit of spiritual response."
"Faith is redirecting our sight, a getting out of the focus of our own vision and getting God into focus." 
Each chapter ends with a powerful prayer. Here is one of them:
Oh God, I have tasted Thy goodness, and it has both satisfied me and made me thirsty for more. I am painfully conscious of my need of further grace. I am ashamed of my lack of desire.
O God, the Triune God, I want to want Thee; I long to be filled with longing, I thirst to be made more thirsty still. Show me thy glory, I pray thee, that so I may know thee indeed.
Begin in mercy a new work of love within me, Say to my soul, "Rise up, my love, my fair one, and come away," Then give me grace to rise and follow Thee up from this misty lowland where I have wandered so long. In Jesus' name, amen.
Old books are often forgotten but still call us with wisdom and lessons. Isn't it amazing to read something from the Bible, perhaps a well-known story or verse and glean a new insight?
What book sits on your shelf that you won't part with and continues to feed your spirit? The Pursuit of God is one that does that for me.